Aoun warns of 'explosion' over govt. conduct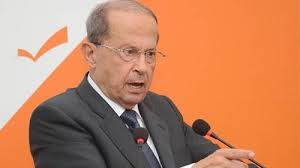 Free Patriotic Movement leader MP Michel Aoun warned Thursday of   "explosive" measures against Cabinet for passing a "non-consensual" agenda item,   describing its action   as a "coup against the Constitution."
"It's about time we frankly tell people about what's really happening in Lebanon. The behavior of some ministers and MPs is subjecting the country to dangers," said Aoun during  a press conference he held after an extraordinary meeting for his Change and Reform bloc.
"They have staged a coup against the Constitution and ridiculed the people through extending the parliament's term," he added.
Aoun held his press conference only hours after the cabinet held a stormy session that witnessed arguments among ministers on several controversial issues. The cabinet sessions had been suspended for more than three weeks over a dispute over the appointment of top security and military chiefs.
The FPM leader has been lobbying for political consensus on the appointment of  his son-in-law Commando Regiment chief Brig. Gen. Chamel Roukoz, as army chief as part of a package for the appointment of other top security officers.
"One violation after another were committed when we reached the juncture of the armed forces appointments. The government argued that it is 'resigned' to refrain from making the appointments and this is an illegal excuse," Aoun noted on Thursday.
He said the "bad intentions" were revealed through "their attempt to attract the army commander to their side in a coup against legitimacy."
"The issue was not limited to the army, as the interior ministry also extended the term of the Internal Security Forces chief," he lamented.
The extended term of Army Commander General Jean Kahwaji expires at the end of September. Aoun has warned against another extension of the military chief's tenure.
"The Change and Reform bloc is the biggest Christian bloc in parliament and our keenness on the country does not allow us to stand idly by," said Aoun.
"They are pushing us towards an explosion and let everyone understand that we do not fear that," he cautioned.
Aoun went on to accuse certain political parties of "encroaching on" the rights of Christians.
"Would a prime minister be named without Sunni consent? Would a parliament speaker be elected without Shiite consent?" he asked.
Aoun also underlined that "the entire cabinet should assume the powers of the president, not a single minister."
"The government disregarded the president's powers and failed to respect the law and the Constitution. It has toppled the National Pact and started acting as a 'coup government' or a central party committee," Aoun decried.
He pointed out that the government's behavior indicates that it is "not aware of the threats" that the country is facing.