Lebanon To Buy 6 A-29 Super Tucanos With Saudi Funds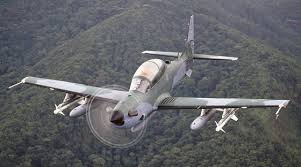 The US State Department this month has approved two possible foreign military sales (FMS) to Lebanon, but if the sale of six A-29 Super Tucano aircraft is approved, US military aid will not pay for them.
The FMS approvals reflect the US commitment to support Lebanon in its fight against Islamic insurgents spilling over from Syria, but the Lebanese government would purchase the six Super Tucanos outright, said Riad Kahwaji, CEO of the Dubai-based Institute for Near East and Gulf Military Analysis (Inegma).
On June 9, the State Department announced its approval of a possible FMS of six A-29 Super Tucano aircraft to Lebanon, at an estimated cost of $462 million.
According to the Pentagon's Defense and Security Cooperation Agency, the Lebanese government has requested the sale of six A-29 Super Tucano aircraft, along with eight PT6A-68A turboprop engines, eight ALE-47 countermeasure dispensing systems, 2,000 advanced precision kill weapon systems, eight AN/AAR-60(V)2 missile launch detection systems, and other related items.
"This is a straight-forward military sale," Kahwaji said. "This was funded through a Saudi $1 billion dollar grant that was given late last year."
Lebanon has been able to procure several systems through this grant, he said.
The Lebanese Armed Forces, according to Kahwaji, are also in the last stages of finalizing a deal for the Bell OH-58 Kiowa single-engine, single-rotor light attack and reconnaissance helicopter.
In addition, on June 4 the State Department announced its approval of another FMS to Lebanon for 1,000 AGM-114 Hellfire II missiles at an estimated cost of $146 million.
"The Hellfires will be the principal weapons for the Super Tucanos and the two Cessna Caravan aircraft in its possession," Kahwaji said. He added that the Lebanese military is looking into buying a third Caravan.
Over the last eight years, Lebanon has received military aid from the United States worth $1 billion, according to the US embassy in Beirut.
In February, the US delivered $25 million worth of equipment, including 70 M198 howitzers and almost 26 million rounds of ammunition and artillery of various shapes and sizes.
"Lebanon is now the fifth largest recipient in the world of US military foreign assistance — over $100 million last year, and over $1 billion in the last eight years," said David Hale, the US ambassador to Lebanon.
"This is top-of-the-line equipment, the best that is on the market. It is what our soldiers use, and we're proud to know that very soon, [Lebanon's] brave soldiers will be using it too, along with other US-supplied equipment, to defeat the terrorist and extremist threat from Syria," Hale added.
In late May, the US delivered more than 200 TOW-II missiles and dozens of launchers to the Lebanese Armed Forces, valued at more than $10 million and jointly funded by the US and Saudi Arabia.
Kahwaji added that French support also culminated in the delivery of Milan launcher systems last April.
"Next month the Army is awaiting Caesar self-propelled guns and in the near future a shipment of Cougar helicopters, as well as offshore patrol vessels, from France," he said.
DEFENSE NEWS