Another 3 Hezbollah fighters killed in Syria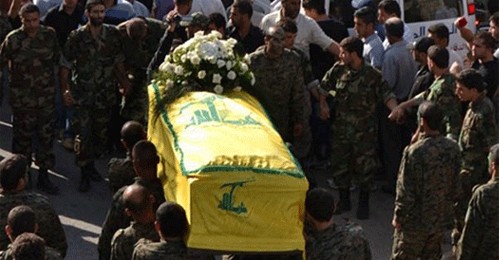 Three  more Hezbollah fighters were killed in battles in Syria on Thursday, according to  security sources
Two of the fighters reportedly  fell while battling militants in the border region of Qalamoun.The death of the two Hezbollah fighters in Qalamoun raised the number of the party's dead since the operation began on May 4 to at least 41, while at least 244 militants have  reportedly fallen on the other side.
Hezbollah and the Syrian army have been fighting Nusra Front and ISIS militants in Syria's Qalamoun mountain range near  Lebanon's eastern border town of  Arsal several weeks
ISIS has been in control of most of Arsal's northern outskirts since last year, while Nusra Front fighters maintained positions on the eastern and southern outskirts of the town.
Hezbollah leader Hassan Nasrallah said recently that  his group is currently involved in an "existential battle" against insurgents inside Syria. Analysts believe Hezbollah is showing signs of being stretched thin. This situation can only worsen, as the group plans to expand and intensify its operations deep inside Syria, from the Lebanon-Syria border.