Lebanon cracks down on undocumented Syrian refugees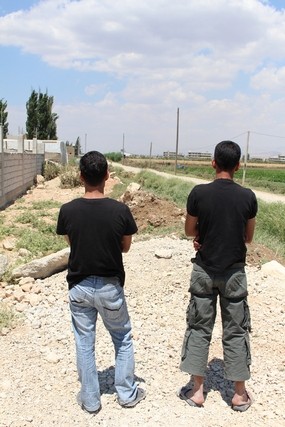 Amid the verdant fields of the eastern Bekaa Valley, thousands of Lebanon's latest unwanted guests live in a crowded camp made indistinguishable from the hundreds of other of shabby refugee settlements here only by the cement brick wall surrounding it.
The Syrian camp is called Al Awde – The Return.
Its residents want to go home eventually, but many feel that Lebanon is trying to force them back while their country is still locked in a complicated war with no end in sight.
Last month, hundreds of troops backed by vehicle-mounted machine guns arrived at Al Awde before the sun rose over the Anti-Lebanon Mountains. An afternoon raid on the camp the day before had netted about a dozen young men who lacked residency papers, but the scale of the morning raid dwarfed the first with at least 50 refugees detained.
"They came in full military gear, they came like they were going to war," said Suleiman, a 53-year-old camp resident who, like others who spoke to The National, did not want to disclose his full name.
The soldiers moved from shack to shack searching for military-age males, residents said, swearing and hitting those they arrested for not having proper documents.
At least 50 men – including Suleiman's son and brother – were loaded on to trucks and driven away to a military base.
The men lacked valid residency permits, but these have become almost impossible to obtain after the government introduced restrictions in January aimed at the more than 1.2 million Syrian refugees already in Lebanon and those trying to get in.
The first step was restricting entry into Lebanon, essentially barring everyone except those in extreme circumstances – such as children being reunited with parents, people in need of urgent medical care not available in Syria, and disabled people with relatives registered in Lebanon – and even then only on a case by case basis.
For refugees already here, renewing their annual residency permits became more complicated.
On top of the existing US$200 (Dh734) fee, refugees are now required to provide a notarised pledge not to work, a copy of a lease agreement from their landlord, a certified attestation from the mukhtar – a mayor-like official – and, in some cases, a Lebanese sponsor to vouch for them.
Getting the paperwork is not easy. Many refugees rent without a formal lease agreement, and local municipal chiefs who feel overwhelmed by the refugee presence can refuse to give their blessings.
Even if they can get the paperwork, many cannot come up with $200 – especially if they honour their promise not to work in Lebanon.
"They keep saying go renew your residency permit. They know we can't. Nobody has $200 to renew it," said Suleiman, the Al Awde resident.
With no official refugee camps in Lebanon, the vast majority of Syrian refugees pay for rent and food out of their own pockets. After years here and with few under-the-table jobs available, many have run out of money.
Refugees and activists say the government policies are designed to discourage refugees from staying in the country and new ones from coming in.
"It's just not clear to me why they are doing this beyond trying to make their lives very hard in the somehow ill-imagined hope that they would voluntarily leave Lebanon and go back to Syria," said Nadim Houry, director of the Human Rights Watch office in Beirut.
"The overall policy that the government has been implementing since January has the intention of reducing the number of Syrian refugees in the country," said Lama Fakih, senior crisis adviser with Amnesty International.
"They do that of course by not allowing people who leave to re-enter, by dissuading people from staying in the country and making it difficult for them to maintain a lawful status in the country."
It is not known how many refugees have not been able to secure residency permits, but the number is likely high and growing, according to the United Nations and activists.
Jean-Nicolas Beuze, deputy director of the Lebanon office of the UN's refugee agency, said Lebanon's General Security department had not shared its data on how many refugees had legal standing.
Last month, in a move seen to be aimed at discouraging refugees from coming to Lebanon, the government asked the agency to stop registering new arrivals. The agency complied, even though UN registration is essential for the displaced to be internationally recognised as refugees, apply for resettlement and receive certain types of aid.
Mr Beuze said that while the UN no longer formally registers new refugees, it continues to advise them on where they can get assistance.
The lack of legal status puts refugees at risk of deportation, though a campaign to forcibly deport them has not been seen yet.
The detention of refugees arrested in camp raids is often brief – few are held for longer than 24 hours, Mr Beuze said.
Most of the men rounded up in Al Awde camp raid last month were only held for a day, though a handful of detainees were held longer.
The government has justified the raids on refugee camps as counterterrorism operations to root out militants.
Both ISIL and Jabhat Al Nusra have a presence on Lebanon's eastern border, and have claimed bombings in the country. So far this year, security forces have been able to thwart most planned attacks and Lebanon has been spared much of Syria-related violence it saw earlier. But uneasiness over the security situation remains.
"No one denies that Lebanon has a real security challenge," said Mr Houry, "but this policy is not the way to address it, and I think ultimately it's violating basic norms and also violating Lebanese laws. In some cases it's losing the hearts and minds of Syrian refugees who would be essential allies in any genuine counterterrorism strategy."
The polarisation the raids can cause is visible in Al Awde camp.
Rami, 19, was one of those arrested in last month's raids and held for 24 hours.
"They humiliated us, they beat us, they cursed us," he said. "We hate them."
At one point, Rami said, a soldier paced in front of a group of detainees, demanding to know whose fathers had served in Lebanon during Syria's heavy-handed occupation of the country. They were singled out for more severe beatings.
"We've been arrested for what the Syrian army did here in Lebanon. They are giving us the same treatment back," he said.
When Rami and other young men were released, they were told that if they failed to get their paperwork, they would be arrested again and their names would be handed over to soldiers at Lebanese army checkpoints in the region. Beyond the harassment and the beatings, Rami said the army also seized the few – unregistered – motorcycles that men in the camp used to travel in the area.
Among refugees like Rami, anger over their treatment at the hands of the state is on the rise.
"Because of the treatment they are giving us, we might rebel," he said.
Suleiman, the older refugee, said he was trying to cool down the angry young men in the camp, but warned that if the government continued to oppress and antagonise Syrians who have sought shelter here, they could face major problems.
"We turned against the Syrian government for this kind of treatment," he said. "We will do the same here."
THE NATIONAL