Aoun threatening to mobilize supporters for street protests if not elected as president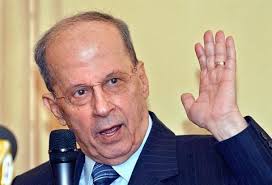 Free Patriotic Movement leader MP Michel Aoun still considers himself a consensual presidential and reportedly told his supporters to mobilize for street protests.
In an interview with al-Joumhouria daily published on Friday , Aoun who is Hezbollah's candidate stressed that he would not accept a "puppet" to rule the country.
"I will not accept for the period of Syrian (hegemony) to be repeated in Lebanon and for a puppet president to be elected," he said.
"We need a consensual head of state who … can fix the track and can control corruption and security," Aoun stressed.
Asked whether he thought he was a consensual candidate, Aoun replied: "Of course."
Earlier this month the Lebanese parliament failed for the 24th time in a row to elect a president to replace Michel Suleiman whose term ended on May 25.
As in the past sessions the parliament was unable to reach a quorum because the Iranian- backed Hezbollah militant group and its ally Aoun's Change and Reform bloc MPs boycotted the sessions.
Lebanese Forces chief Samir Geagea who was the first to announce his presidential candidacy blamed Hezbollah for the vacuum at the country's top Christian post, saying the party has been insisting on backing a single candidate, in reference to Aoun, and not making compromises.
According to media reports Lebanon will not get a president before Iran gets its nuclear deal from the west in June . The reports indicate that Hezbollah is awaiting a green light from its backer Iran before it sends its MPS to the parliament .
The reports stressed that Iran is using Hezbollah and Lebanon's election to put pressure on the west to secure a favorable deal.
In the interview Aoun accused the Future Movement and the March 14 alliance of "seeking to impose a president who does not represent Christians."
It was not clear if he was referring to Geagea.
Asked if the vacuum in the country's top Christian post would remain pending his election, Aoun replied: "Until now yes. There is a confrontation."
He also reiterated that he would not make any concessions.
Aoun who turned 80 last february denied what he called "rumors" that he is preparing for a "surprise" on August 7.
He said, however, that "something could take place although I haven't promised anything."
The weekly meetings that the FPM chief is holding with his supporters are aimed at "awakening the people," he said.
"If we don't tell them the truth of what's happening, then they will say that Aoun has paralyzed the cabinet and the parliament," the MP told his interviewer.
Aoun has been holding meetings with crowds visiting him at his residence in Rabieh every Saturday. He has also reportedly been addressing them with fiery speeches rejecting plans for the extension of the terms of high-ranking military and security officials.