Berri: "It is forbidden to freeze the country"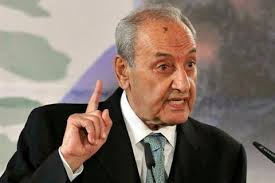 Speaker Nabih Berri expressed grave dissatisfaction over the ongoing cabinet crisis,  stressing that  a solution  must be found to reactivate the government and resume legislation at the parliament so we could resolve the presidential crisis.
"It is forbidden to freeze the country" He said adding that he and the PM are on the same page
"Prime Minister Tammam Salam and I are on the same page," Berri said in comments published in al-Mustaqbal newspaper on Sunday.
He also noted that the presidential vacuum is a priority, saying: "PM Salam and I are keen, more than anyone, to resolve" the crisis.
Syria
"I fear the fate f Syria," the speaker said when asked to comment o the massacre of the Druze in Syria
The Idlib killings were the deadliest since Syria's civil war started in March 2011 against the minority Druze sect, which has been split between supporters and opponents of President Bashar Assad — but has largely stayed out of the fighting.
Berri stressed that the "problem isn't targeting a certain group but the whole Syrian people."