Venezuelans mass for year's largest anti-government protests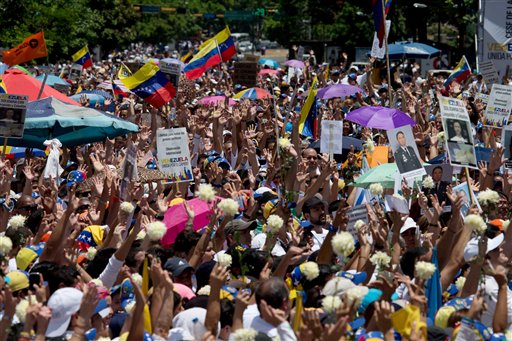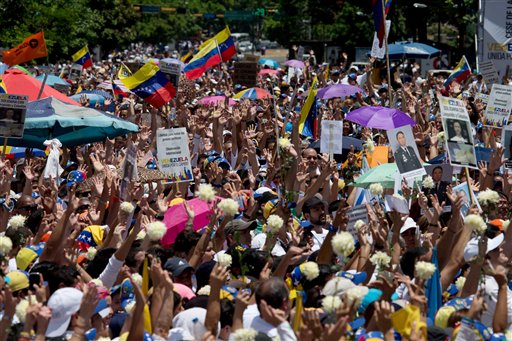 Thousands donned white and took to the streets in cities across the country Saturday in the biggest show of frustration with Venezuela's socialist administration since a wave of bloody anti-government protests a year ago.
The day of marches was called less than a week ago by imprisoned opposition leader Leopoldo Lopez. In a video leaked from his prison cell, Lopez urged demonstrations to demand a firm date for this year's legislative elections and freedom for jailed opposition politicians like himself who human rights groups consider political prisoners.
A Harvard-educated former mayor, Lopez has been jailed for 15 months in connection with his leadership of the spring of 2014 protests that resulted in dozens of deaths on both sides of Venezuela's yawning political divide.
The opposition coalition did not endorse Saturday's rallies, underscoring longstanding fissures among critics of the country's 16-year socialist government. Before his imprisonment last year, Lopez clashed with other high-profile politicians, including moderate opposition leader Henrique Capriles, about the wisdom of organizing nationwide protests.
Capriles, who came close to beating President Nicolas Maduro in the 2013 presidential election, led a march through the inland town that is home to a prison where former opposition mayor Daniel Ceballos was transferred from a military jail last week.
In Caracas, a sea of sweltering protesters shut down a main thoroughfare in wealthy eastern Caracas for hours, slurping up sweetened crushed ice, shading themselves with umbrellas and waving flags among the mango trees and half-finished buildings.
Ceballos' wife, Patricia, who won a landslide election victory to replace her husband as mayor of the restive western city of San Cristobal was a crowd favorite.
"They'll never divide us. Don't ask, don't beg; demand freedom," she shouted, prompting the blocks of protesters to chant back "liberty!"
Other opposition leaders stood under a banner reading "Venezuela United for Change" and shaved their heads in solidarity Ceballos, whose hair was reportedly cut off when he was transferred.
Maria Fernanda Zerpa, a student wearing a tie-dye T-shirt and peace sign necklace, had shaved her head, too. She came out to support Lopez, who opinion polls peg as Venezuela's most popular politician, but she doesn't trust the rest of the opposition coalition and has little interest in the coming elections.
"The elections are like whatever, because we know the people who run them have been bought by the government. And Capriles is a scaredy-cat who didn't fight Maduro for the presidency," she said.
Protesters were most eager to talk about the country's pervasive problems of shortages, inflation and violent crime, the same issues that fueled last year's demonstrations and have worsened in the months since.
Lopez has hardly been seen since his arrest, and the short video calling the day of protest electrified his supporters in a way other calls to take to the streets in the past months have not.
Venezuela blocked two conservative former Latin American presidents from visiting Lopez or Ceballos this week. State ombudsman Tarek Saab said the former Bolivian and Colombian presidents were wrongly attempting to give Venezuela condescending "human rights classes."
On Friday, Maduro warned that top Caracas police officials would be imprisoned if they allowed violence to break out during Saturday's march.
"There are two Venezuelas: the bloodthirsty, coup-mongering ultra-right wing minority, and the majority that loves their country," he said.
For Franz Yustiz, who brought his grandchildren to the Caracas protest, a coup sounded like just the thing.
"They need to send in the in marines quick, come what will," said Yustiz, who works as a bodyguard, a profession that has exploded as violent crime soars here. "I'm so fed up. I want my grandchildren to know true democracy."
Associated Press/ My Way