Beau Biden, Son of V.P. Joe Biden, Dies at 46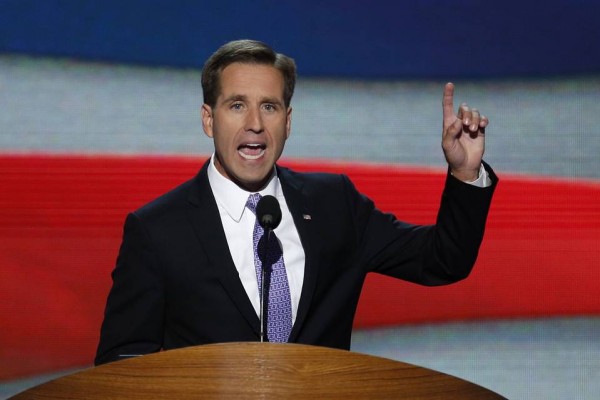 Beau Biden, the elder son of Vice President Joe Biden and the former attorney general of Delaware, died Saturday after battling brain cancer. He was 46.
Beau Biden was considered a rising star in the Democratic Party and was expected to run for governor next year in Delaware. But a series of health issues had clouded his political future as the Biden family privately dealt with his prognosis.
Beau Biden, an Army officer and father of two, lived a life that was "was defined by service to others," his father said in a statement.
Joe Biden announced his son's death Saturday evening, saying that Beau Biden fought brain cancer "with the same integrity, courage and strength he demonstrated every day of his life."
"The entire Biden family is saddened beyond words," the vice president said in a written statement. "We know that Beau's spirit will live on in all of us—especially through his brave wife, Hallie, and two remarkable children, Natalie and Hunter."
President Barack Obama said Saturday in a written statement that he was grieving, calling Beau a friend who "believed the best of us all."
"For all that Beau Biden achieved in his life, nothing made him prouder; nothing made him happier; nothing claimed a fuller focus of his love and devotion than his family," Mr. Obama said.
Beau Biden, whose given name was Joseph Robinette Biden III, and his father were close, sharing a love of politics and a bond forged during the years that Joe Biden raised his young sons as a single parent following a car crash that killed Beau Biden's mother and sister.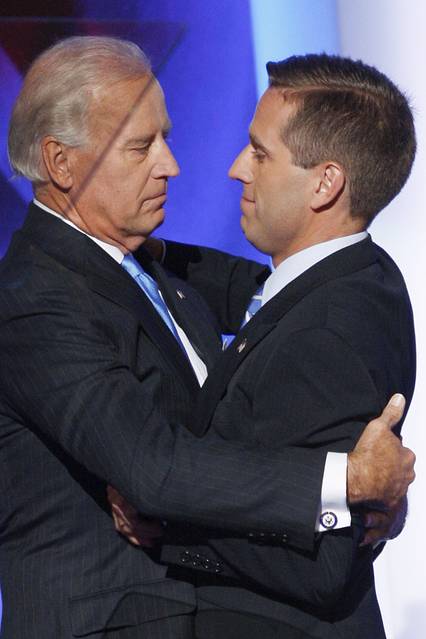 In his elder son, Joe Biden saw perhaps the family's best political hope. As the vice president approached what could be the end of his career, Beau Biden appeared poised to ascend the political ladder.
Beau Biden still was carving his own path in politics, but Democratic allies and friends of the family had openly mused about whether the vice president's son might someday have White House aspirations of his own.
Beau Biden was first elected attorney general in 2006. Four years later, he considered making a run for the U.S. Senate seat long held by his father. Instead, he opted to seek a second term as Delaware's attorney general, winning decisively in 2010 with nearly 80% of the vote.
Last year, Mr. Biden announced that he would forgo a third campaign for attorney general and would focus on a 2016 gubernatorial bid.
His campaign website still shows a photo of him with his wife and children, along with a statement revealing his political plans. The 2016 campaign never officially launched, though, and Beau Biden rarely was seen in public in recent months.
His Twitter account, where he regularly posted personal photos and where he announced in December that his family had adopted a rescue dog named Indi, has been dormant since February.
Mr. Biden was a major in the Delaware Army National Guard and an Iraq war veteran, serving in the JAG Corps, the U.S. Army's legal organization, during a yearlong deployment. Joe Biden and his wife, Jill Biden, often spoke proudly about their son's service, and in the White House, Mrs. Biden and first lady Michelle Obama launched an initiative to support veterans and their families.
"I know firsthand that mixture of pride and concern that military families feel when a loved one is deployed," Mrs. Biden said during a 2012 campaign event.
The vice president lauded his son's commitment to service, from his work as a lawyer in war-torn Kosovo to his efforts as attorney general to protect children from abuse.
"His absolute honor made him a role model for our family," Joe Biden said.
"In the words of the Biden family: Beau Biden was, quite simply, the finest man any of us have ever known."
Beau Biden's death brings more heartbreak to a family that has suffered devastating losses.
In 1972, Beau Biden's mother, Neilia, and one-year-old sister died in a car accident during an excursion to shop for a Christmas tree. Beau Biden, who was 3 years old, and his brother, Hunter, were seriously injured but survived.
In 2008, Beau Biden recounted that time in an emotional speech at the Democratic National Convention, speaking about the many hours his father spent at his bedside while he remained hospitalized for weeks. Joe Biden had just been elected to the U.S. Senate in 1972, but his sons always were his priority, Beau Biden said.
"We, not the Senate, were all he cared about," Beau Biden said in the 2008 speech. "As a single parent, he decided to be there to put us to bed, to be there when we woke from a bad dream, to make us breakfast, so he'd travel to and from Washington, four hours a day."
Beau Biden took the stage again at the 2012 Democratic National Convention, describing his father as his hero. Joe Biden wiped away tears when his son introduced him as "the father I've always known, the grandfather my children love, and the vice president our nation needs."
The convention speeches raised Beau Biden's political profile and spurred speculation about his prospects for higher office. But eventually, his failing health forced him out of the public eye, raising questions about whether he had run his last campaign.
Beau Biden, who had suffered a mild stroke in 2010, fell ill during a family vacation in 2013 and was diagnosed with brain cancer. He underwent surgery at a Houston hospital that specializes in cancer treatment, but the Biden family did not provide any details about his diagnosis.
After completing radiation and chemotherapy, Beau Biden was given a clean bill of health in November 2013. He suffered a recurrence this spring and immediately sought treatment, a White House official said.
The vice president's office confirmed earlier this month that Beau Biden was undergoing treatment at Walter Reed National Military Center in Bethesda, Md. But the White House didn't disclose his condition.
After leaving office earlier this year, Beau Biden returned to practicing law, joining the firm Grant & Eisenhofer.
WSJ