Verizon to Buy AOL for $4.4 Billion in Cash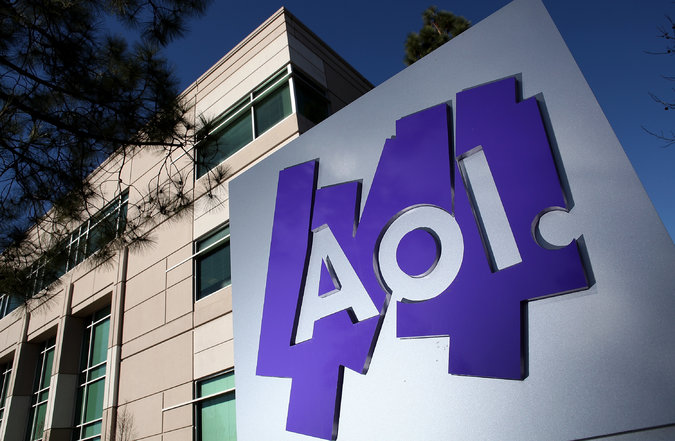 Verizon Communications on Tuesday said it would acquire AOL for $4.4 billion in an all-cash deal that will see today's king of mobile phones acquire the one-time king of media.
Verizon is the largest mobile phone operator in the country, and has growing lines of business offering high-speed Internet, as well as business and streaming video services.
AOL, which acquired Time Warner for $165 billion in what is broadly regarded as a debacle and the high-water mark of the dot-com bubble, is now a shadow of its former self, managing a small collection of media and technology properties.
Verizon is billing the deal as a way for the company to expand its video offerings. Already a leader in distributing mobile video through its robust national mobile phone network, Verizon is making a push to become a leader in so-called over-the-top video, shorthand for television content distributed through the Internet.
But in acquiring AOL, Verizon is buying much more than websites that host streaming content. Along with its video and online advertising technology, AOL owns The Huffington Post, a sprawling collection of international news websites with growing traffic.
It also manages a dwindling but profitable dial-up Internet business, providing online access for those who live in areas too remote to have broadband, or who never canceled their subscriptions.
"Verizon's vision is to provide customers with a premium digital experience based on a global multiscreen network platform," Lowell C. McAdam, Verizon's chief executive, said in a statement. "This acquisition supports our strategy to provide a cross-screen connection for consumers, creators and advertisers to deliver that premium customer experience."
Verizon will pay $50 a share for AOL, a 17 percent premium over the company's closing share price of $42.59 on Monday.
"The visions of Verizon and AOL are shared," said Tim Armstrong, AOL's chairman and chief executive. "The companies have existing successful partnerships, and we are excited to work with the team at Verizon to create the next generation of media through mobile and video."
Mr. Armstrong will stay with AOL after the acquisition. Verizon will fund the deal with cash and short-term debt.
"AOL has once again become a digital trailblazer, and we are excited at the prospect of charting a new course together in the digitally connected world," Mr. McAdam said. "At Verizon, we've been strategically investing in emerging technology, including Verizon Digital Media Services and O.T.T., that taps into the market shift to digital content and advertising. AOL's advertising model aligns with this approach, and the advertising platform provides a key tool for us to develop future revenue streams."
Verizon was advised by LionTree Advisors and Guggenheim Partners, and received legal advice from Weil, Gotshal & Manges. AOL was advised by Allen & Company and received legal advice from Wachtell, Lipton, Rosen & Katz.
The closing of the deal, which is subject to regulatory approval, is expected this summer.