Salma Hayek meets Syrian refugees in Lebanon, gets emotional
Super duper lovely! Salma Hayek visited Lebanon this past Saturday, April 25, to draw attention to the region's refugees who have been displaced by conflicts in their native Syria.
The stunning actress, 48, swapped her glam makeup and enviable wardrobe for slacks, boots, and a jean jacket for her surprise mission this weekend. During her field visit, Hayek was snapped tending to local kids and listening to the struggles of the millions impacted by conflict.
Hayek's visit to Lebanon's Bekaa Valley also included visits with aid workers who are providing counseling services and learning activities for the kids. She also observed a polio immunization campaign, along with mobile medical clinics set up to provide free healthcare and basic needs to the millions of displaced people.
According to UNICEF, close to 14 million children have been affected by regional conflict, and about 2.6 million kids are no longer in school. Within that staggering number, nearly two million kids are currently living as refugees in neighboring countries.
"Millions of children have been robbed of their childhood, their country and have lost their loved ones," Hayek said in the press release to Us Weekly. "As a result of the conflict in Syria, they are missing out on their education and are having to work to provide for their families." The Chime for Change campaign co-founder urged her fans to donate to the Chime for the Children of Syria.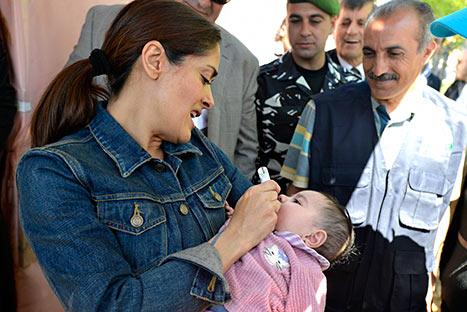 On Monday, Hayek's tour of the region continued as she galled up in a gorgeous gown for the Beiruit premiere of her new movie The Prophet. The star, whose paternal grandparents were Lebanese, spoke to Reuters in detail about her animated passion project.
"For me this is a love letter to my heritage," she told the news agency on Monday. "Between all the connections of our ancestors and the memories of the ones that are no longer with us, I hope they are proud of this film because I did it also for them."
Hayek, the wife of billionaire Kering CEO Francois Henri Pinault, also gave a nod to her ancestral roots in her UNICEF press release on Monday. "I'm deeply inspired by the courage of the Syrian refugee children and their families that I met in Lebanon who, against the odds, and despite the harm they have suffered or witnessed, are still determined to endure life and hope for a better future," she noted of her field visit.
"I'm also moved by the generosity so many Lebanese people have shown toward those seeking refuge in their country. I plead to everyone who is grateful for the peace and stability in their lives to show compassion for those who have lost it all and to help."
US Magazine