Hariri: "We won't allow a return to civil war" in Lebanon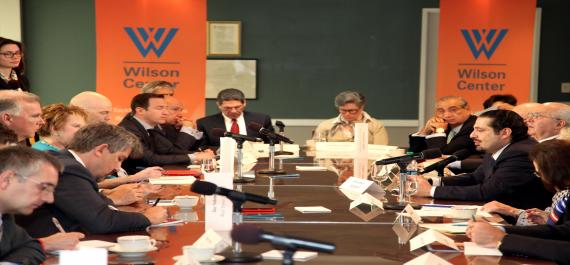 Former Prime Minister Saad Hariri declared Monday "we will not allow a return to civil war" in Lebanon and "we will not revert to violence " He continued: "But if the situation remains as  is  it would be increasingly difficult to ensure that the flames of the region do not inflame Lebanon."
Hariri was speaking at  the Wilson Center in the United States.
Hariri said that the Arab region faces major challenges today and they feed each other. On the one hand Iran exercises its expansionist policy through its interference in Bahrain, Yemen, Iraq, Syria, Lebanon and Palestine, for example.  On the other hand, the extremists and jihadists who claim they are fighting on behalf of Islam threaten to destroy the fabric of these communities, in reference to the Islamic State and al Qaeda linked groups.
The former Prime Minister stressed the need to elect a president because "the vacancy is very dangerous and involved in the paralysis of state institutions." He stressed the importance of Baabda Declaration which calls for distancing  Lebanon from  the Syrian conflict.
Syrian regime's cohesion is eroding
Former Syrian intelligence chief in Lebanon, Rustom Ghazali, asked to go on an anti-Syrian regime TV station just before what turned out to be a fatal beating in Syria, Hariri also said on April 27.
Responding to a question from Al-Monitor during a meeting with journalists and Middle East experts at the Woodrow Wilson International Center for Scholars, Hariri said that Ghazali — whose death was reported by Ya Libnan on April 24 had "contacted somebody I know" in February and expressed his desire to make a public statement on Hariri's Future TV station.
Hariri said he did not know exactly what Ghazali intended to say, but suggested that he was about to break with the Assad regime and that that was the reason behind what turned out to be a fatal beating.
"Straight after that, we heard he got beaten up," Hariri said.
"It happens they assassinate themselves sometimes," Hariri added sarcastically, referring to other former pillars of the Syrian intelligence establishment who have suffered fatal injuries under mysterious circumstances in recent years.
While some Lebanese thought Ghazali was killed to prevent him from testifying before a tribunal investigating the 2005 assassination of Hariri's father, former Prime Minister Rafik Hariri, other analysts have pointed to growing dissension within the Syrian regime's ranks as a gruesome civil war grinds into its fifth year. The chief of military intelligence, Rafiq Shehadeh, was reportedly fired last month and two cousins of Syrian President Bashar al-Assad — Hafez Makhlouf, head of security in Damascus province until he fled the country last year, and Munzer al-Assad, arrested this month for allegedly plotting a coup — have fallen afoul of the Assad government.
Robert Ford, a former US ambassador to Syria, told Al-Monitor that the regime's cohesion is eroding. "Two of four security chiefs [Ghazali and Shehadeh] have been removed," Ford said. "If it's not the inner ring, it's the next ring out. That's pretty serious."
A Lebanese source who spoke to Al-Monitor on condition of anonymity said a Lebanese middleman had contacted Saad Hariri and asked for a telephone number for Future TV for Ghazali to make "an important statement." When Ghazali failed to call, Hariri provided other numbers, the source said, but then "the story came out that Ghazali had been badly beaten." The middleman then lost contact with Ghazali, the source said.
Hariri said that there were rumors that Ghazali was killed by Hezbollah or members of the Iranian Revolutionary Guards, who have taken a prominent role in preserving the Assad regime since the 2011 uprising. According to Hariri, some elements of the Syrian establishment "don't want so much involvement of the Revolutionary Guard" and Hezbollah in Syrian affairs.
The former prime minister said his focus was on preventing the Syrian war from reigniting civil strife in Lebanon, which endured a 15-year conflict, from 1975 to 1990. While Lebanon is experiencing "relative stability" compared with Syria, Yemen, Iraq and other Arab states, Hariri pointed to the presence of 1.2 million Syrian refugees in Lebanon, a country of only 4 million, and said "this stability is not sustainable unless state institutions are strengthened and the war in Syria is resolved."
"We are currently in a dialogue with Hezbollah aimed at defusing tension in the country," he said.
Hariri, on his first visit to Washington since 2011, has met with Secretary of State John Kerry and other senior US officials. Beyond advocating for assistance to Lebanon, he is lobbying for greater US involvement in resolving the Syrian conflict.
Hariri blamed the failure of the so-called moderate opposition on the international community, which has not assisted the opposition sufficiently, he said.
With Turkey, Saudi Arabia and Qatar coordinating better, opposition forces have scored some successes against the Syrian regime, most recently in the town of Jisr al-Shughour in northern Idlib province. However, leadership in the fight appears to be coming from Jabhat al-Nusra, an offshoot of al-Qaeda.
Hariri contended that Jabhat al-Nusra and even the group that calls itself the Islamic State would experience massive defections if there was a viable alternative, saying that extremists make up perhaps 40,000 out of 20 million moderate Syrians. He called for US and international support for a three-point plan to unify the opposition, declare a no-fly zone in a portion of Syria and increase training for the Free Syria Army. He told Al-Monitor that Iran should not take part in any peace talks about Syria until the opposition had been strengthened in accordance with this plan. The US and Turkey have pledged to train 5,000 moderate fighters but no decision has been reached about a no-fly zone or safe haven within Syria.
The former prime minister spoke at length about the need to counter Iranian influence in the region and strongly backed the Saudi-led offensive against Houthi rebels in Yemen. "Why is Iran helping the Houthis?" he asked. "It isn't because they think the Houthis are underprivileged. Come on, next is Saudi Arabia."
Asked about the progress in nuclear negotiations with Iran, Hariri said a nuclear deal "could be good for the region if Iran stops really seriously building a bomb." But he expressed concern that Iran would use increased revenues from oil exports and the easing of other sanctions to share with its "proxies."
"We all know what it's [Iran's] done in the past," Hariri said. "What will it do in the future?"