Mohamed Fahmy defended in court by Egyptian media tycoon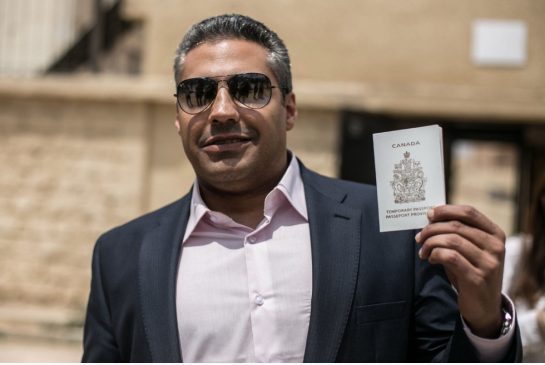 One of Egypt's wealthiest businessmen personally vouched for Mohamed Fahmy in court on Wednesday, telling the judge the Canadian journalist "has no relation to the Muslim Brotherhood."
Fahmy was sentenced last year, along with Egyptian producer Baher Mohamed and Australian correspondent Peter Greste, to between seven and 10 years in prison on terror-related charges in a case that sparked worldwide condemnation.
They successfully appealed the verdict in January. Fahmy and Mohamed were released on bail at the first session of their retrial in mid-February after more than 400 days behind bars, while Greste was deported from Egypt before the retrial began.
Prosecutors are accusing the journalists of promoting or belonging to the Muslim Brotherhood, which the Egyptian government branded a terrorist organization in December 2013, and of using unlicensed broadcast equipment to air false news and harm Egypt's national security.
Defence lawyers called in billionaire telecommunications tycoon Naguib Sawiris to testify on Fahmy's behalf.
"He is not a Muslim Brother," Sawiris told the judge, adding he personally knew Fahmy during his years working with CNN. Fahmy joined Al Jazeera English in September 2013, just three months before his arrest.
Sawiris has been an outspoken critic of the Muslim Brotherhood. His television channel, ONTV, and the political party he founded, the Free Egyptians, were at the forefront of efforts to mobilize against former president Mohammed Morsi, who was ousted by the military in July 2013.
The Brotherhood has since been the primary target of a state-led crackdown on opposition voices, in which hundreds of protesters have been killed and thousands imprisoned.
Throughout the original trial, defence lawyers argued that prosecutors had made no distinction between Al Jazeera English and its Egyptian affiliate, Al Jazeera Mubasher Masr, widely viewed as being biased in favour of the Brotherhood. It stopped broadcasting in December.
"I work in media and there is a big difference between the two channels," Sawiris told the court. "Every channel has its own management and the coverage is different. Al Jazeera English tries to be objective, but my personal opinion is that Mubasher Masr is inflammatory, not neutral or professional and played a negative role in Egypt."
Fahmy has been critical of the Qatari-owned Al Jazeera network for allowing translated reports from Al Jazeera English to run on Al Jazeera Mubasher Masr and sent emails at the time to warn management in Doha that the move posed a security risk.
Sawiris said a distinction should be made between individual journalists and the network that employs them. "The channel, not the correspondent, is responsible for what is broadcast," he said, adding that journalists are also not responsible for securing a network's broadcast licences.
The court was adjourned to April 28 when a technical committee formed last month to review video evidence in the case will present its findings. The judge ordered the formation of the new committee after the previous group of experts — who submitted a report on which the original conviction was based — contradicted their own written testimonies in court.
The judge told defence lawyers that closing arguments would be scheduled in subsequent sessions, indicating a possible verdict by early summer.
After the trial, Fahmy showed reporters a newly obtained temporary Canadian passport that Troy Lulashnyk, the Canadian ambassador to Egypt, handed to him before the court session began. Fahmy and Mohamed have been without any identification since their belongings were seized upon their arrest.
"I'll probably sleep better at night," Fahmy said with a laugh as with his fiancée, Marwa Omara, stood close by. He said the two would apply for marriage documents the next day.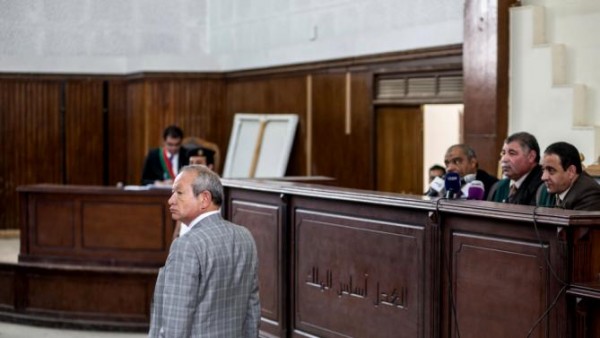 "I'm very happy. Now we can walk on the streets safely without fear of arrest or humiliation," said Omara, referring to cases where Fahmy has been harassed at police checkpoints. "And I'm so excited to go to the beach, I haven't seen the sea for a year."
Under pressure from officials, Fahmy renounced his Egyptian citizenship in December in the hopes of being deported as a foreigner. The Harper government came under criticism for not issuing Fahmy a new passport after his release on bail in mid-February, sparking a campaign by Fahmy's supporters.
"I think it's a collective approach that the media took and members of the opposition that advocated on my behalf in Ottawa," Fahmy said. "I think they just realized there's no reason not to give me my passport, I'm not going anywhere. It's just for protection."
Mohamed, who was also able to obtain a new Egyptian ID, called on the media to focus on other journalists imprisoned in Egypt.
"Your support to us while we were in prison was amazing," Mohamed said. "I want to ask all the media to keep doing that because there are still other journalists behind bars. Some of them just got life sentences a couple of days ago so please don't forget about those guys."
Earlier this month, a court handed down life sentences to 37 defendants, including at least 10 journalists, according to Human Rights Watch, in a mass trial of over 50 people accused of organizing opposition to Morsi's ouster.