Germanwings Flight 4U9525: Co-pilot visited glider field near crash site as a child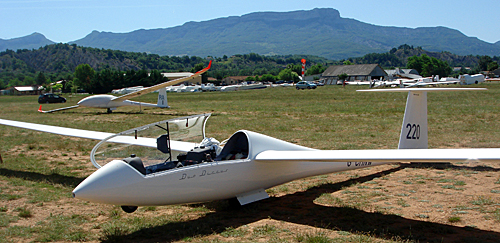 The German co-pilot accused of crashing a passenger plane in the French Alps frequented a gliding club near the crash site as a child with his parents, according to a member of the club.
Francis Kefer, a member of the club in the town of Sisteron, said on i-Tele television that Andreas Lubitz's family and other members of the gliding club in his home town of Montabaur, Germany, came to the region regularly between 1996 and 2003.
French prosecutors say Lubitz deliberately slammed the Germanwings flight into a mountain on Tuesday, killing all 150 people aboard. German prosecutors are trying to determine what caused Lubitz to take such a devastating decision.
The crash site is about 50 kilometers (30 miles) away from the Aero-club de Sisteron glider airfield.
Officials at the club would not comment Saturday.
The area, with its numerous peaks and valleys and stunning panoramas, is popular with glider pilots. In the final moments of the Germanwings flight, Lubitz overflew the major turning points for gliders in the region, flying from one peak to another, according to local glider pilots.
A special Mass was being held Saturday in the nearby town of Digne-les-Bains to honor the victims and support their families.
Bishop Jean-Philippe Nault led the Mass, attended by about 200 people from the surrounding region, deeply shaken by the crash. It was the deadliest crash on French soil in decades.
The plane shattered into thousands of pieces, and police are toiling to retrieve the remains of the victims and the aircraft from a hard-to-reach Alpine valley near the village of Le Vernet.
German prosecutors say Lubitz hid evidence of an illness from his employers — including a torn-up doctor's note that would have kept him off work the day authorities say he crashed Flight 9525.
Searches conducted at Lubitz's homes in Duesseldorf and in the town of Montabaur turned up documents pointing to "an existing illness and appropriate medical treatment," but no suicide note was found, said Ralf Herrenbrueck, of the Duesseldorf prosecutors' office.
Prosecutors didn't specify what illness Lubitz may have been suffering from, or say whether it was mental or physical. German media reported Friday that the 27-year-old had suffered from depression.
Duesseldorf University Hospital said Friday that Lubitz had been a patient there over the past two months and last went in for a "diagnostic evaluation" on March 10. It declined to provide details, citing medical confidentiality, but denied reports it had treated Lubitz for depression.
Germanwings declined Saturday to comment when asked whether the company was aware of any psychological problems Lubitz might have had, but said he had received medical clearance to fly.
Among the forms that German pilots have to complete when applying for a license is a medical questionnaire that requires details of previous or existing psychological or psychiatric trouble or illness. Applicants have to sign that they consent to give the examining doctor and, if necessary, a medical expert at Germany's Federal Aviation Office access to all medical documents.
Neighbors and colleagues described Lubitz as an affable man whose physical health was superb. Race records show he took part in several long-distance runs.
Frank Woiton, another Germanwings pilot, said Lubitz told him he wanted to become a long-distance pilot and fly Airbus A380 or Boeing 747 planes.
Woiton, who like Lubitz comes from Montabaur, said he met Lubitz for the first time three weeks ago when they flew Duesseldorf to Vienna and back together.
Woiton told German public broadcaster WDR on Friday that Lubitz didn't stand out and appeared like any other colleague. Lubitz "flew well and knew how to handle the plane," he said.
Following the crash, the European Aviation Safety Agency issued a new recommendation that all airlines in Europe should require two people in the cockpit at all times during flight. If one of the pilots leaves the cockpit — only allowed during the cruising stage — then a flight attendant needs to take his or her place.
Ilias Maragakis, a spokesman for the agency, said EASA's recommendation isn't binding but airlines generally follow them. Once the crash investigation has been completed, the agency may review and amend its compulsory regulations and requirements.
Associated Press