A new Egyptian capital in 7 years?

It is a project as ambitious as Egypt's ancient pyramids.
Built from scratch to escape Cairo's choking pollution, a planned new capital will feature an airport larger than London's Heathrow, a building taller than Paris's Eiffel Tower and more than 10,000 km (6,200 miles) of boulevards, avenues and streets.
The city, meant to be built within just seven years, was unveiled last week at the Sharm El-Sheikh economic summit, where President Abdel Fattah al-Sisi urged foreign investors to help Egypt recover from the turmoil triggered by the 2011 uprising.
But the plan was not universally welcomed, with residents of Cairo questioning the need to replace their 1,000-year-old capital with a shiny new city that, if it ever rises from the nearby desert, will rely heavily on Gulf Arab financing.
"If we need to move some buildings and some government employees, that's fine. But buildings don't make a capital, history does," said Amr Karim, a doorman at one of Cairo's art deco buildings in the Agouza district.
A number of countries conjured up new capitals in the last century, such as Brasilia inBrazil, which was founded in 1960, Canberra in Australia, founded in 1913, and Astana, which became the administrative center of Kazakhstan in 1997.
Egypt's ambitions are on an even larger scale.
Its new capital is eventually designed to cover some 700 sq km (435 sq miles), roughly the size of Singapore, contain 1.1 million homes and create 1.75 million jobs, according to its promotional website. (www.thecapitalcairo.com)
It will also cost some $300 billion to complete, according to Mohamed Alabbar, the United Arab Emirates real estate tycoon who helped develop the Burj Khalifa skyscraper in Dubai and who is leading the mega Egyptian venture.
To put that in perspective, the CIA handbook says Egypt's total gross domestic product in 2013 was $262 billion.
PAST FAILURES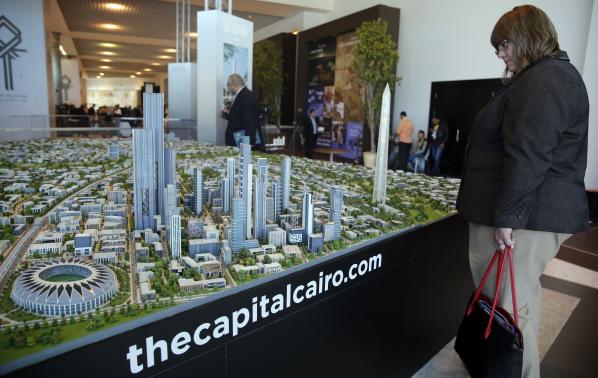 After removing Islamists from power in 2013 and becoming president a year later, Sisi has announced a raft of proposals, including an expansion of the Suez Canal, promising to usher in a new era of prosperity for Egypt's 90-million strong population — some nine million of whom are estimated to live in Cairo.
With Cairo's roads permanently clogged by bumper-to-bumper traffic and its housing crisis so acute that tens of thousands of people live among the tombs of the city's necropolis, the possibility of starting with a clean slate seems appealing.
But it is not a new idea, and the precedents are worrying.
Ill-conceived 'new cities' have sprung up on the outskirts of Cairo before, only for many to end up largely empty or just housing the super-rich, with a lack of infrastructure and transport deterring ordinary people from relocating.
"This will only be for the wealthy," said electrician Mohamed Hassan, 27, sitting at a cafe in a run-down Cairo neighborhood. "For us, we will just continue eating fava bean and falafel sandwiches," he added referring to the staple diet for most of Egypt's myriad poor.
Some Cairenes say the cash would be better spent on improving basic infrastructure in a country where more than one in four people live in poverty, according to U.N. data.
"I haven't heard about the new capital. How can we afford a brand new city when we can't afford new roads or schools?" said Mosaab Mansour, a student at a gym in a trendy Cairo district.
"Who's going to pay for it? The Gulf? If they pay for it, then it's their capital. We'll just be renting it."
RALLYING THE PEOPLE
The glossy images on the project website bear a much closer resemblance to wealthy Dubai than they do to chaotic Cairo, with lots of green spaces promised and a theme park planned that will be more than six times the size of Disneyland in California.
Egyptian officials say the city will be built to the east of Cairo, away from the Nile river and on the road leading to the Suez Canal. An initial phase, costed at some $45 billion, is set to cover 135 sq km.
The authorities have promised to start work within weeks and Sisi, aware that street protests have helped bring down two presidents in just four years, is anxious for swift results in a country renown for its sluggish bureaucracy.
"Not 10 years, or even seven years," the president told Alabbar last week in comments captured on video.
Urban planners say for now the project is fuzzy about what kind of infrastructure will tie the new capital to Cairo — a major flaw that has doomed other 'new cities' — and question how many people will actually relocate.
Yahia Shawkat, an urban policy researcher with an independent thinktank, said Egypt had already spent $8 billion on 21 new city projects in the last 30 years with mixed results.
"There has not been any meaningful population movement … and the average occupancy rate is about 20 percent," he said.
But investment banker Ahmed El-Houssieny, CEO of Planet Investments, disagreed with the many naysayers, arguing that it was "a great cause to rally people around", especially because it was meant to create a large number of jobs in a country where unemployment stands at about 13 percent.
Responding to criticism that moving the capital will take away from the historical significance of Cairo, with its ancient Islamic architecture, mosques, Citadel and bazaars, he said:
"You have lots of great cities that have been able to drive traffic away from the center and still maintain the capital's glory," he told Reuters, stressing that the new city would be an administrative center that would not detract from Cairo.
Clothing store owner Rami al-Rafie was also optimistic.
"This is a great idea, it's been a great idea since it was proposed years and years ago," he said, referring to past plans to shift major ministries away from downtown Cairo.
"The Gulf, the Europeans, the Chinese all know that Egypt is a good place to invest… I hope they use some of that investment to make this new capital as beautiful as Dubai, God willing."