Palestinian teenage girl released from Israeli jail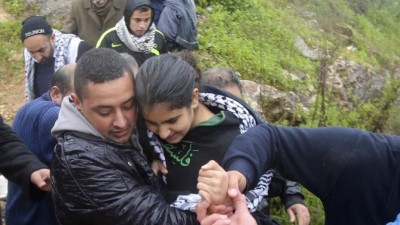 Israel freed on Friday a 14-year-old Palestinian schoolgirl, whose jailing six weeks ago for planning to attack Israelis became a focus for anger over the arrest of children in the occupied territories.
Malak had been sentenced to two months in jail after being convicted of "attempting to throw objects at a transportation route, possessing a knife and throwing objects at a person or at property", Haaretz reported.
Israeli prosecutors claimed she intended to stab soldiers with the knife but her family deny all the charges. In addition to the prison term, she was fined 6,000 shekels ($1,500).
"My heart broke when I saw her in court, cuffed and shackled," her mother, Khawla al-Khatib, recently told AFP from her home.
"I brought in a coat for her to wear because it was cold, but the judge refused to let her have it."
Palestinian authorities claimed Malak was handcuffed and blindfolded upon arrest, interrogated without a family member or lawyer present and detained for three weeks before her trial.
An AFP photographer in the West Bank town of Tulkarem said Malak al-Khatib was released there and greeted by her parents, relatives and the mayor, before being taken home to Beitin village, about 40 kilometers (25 miles) away.
Malak was arrested on her way home from school on December 31, and a military court subsequently jailed her for two months.
The Palestinian Prisoners' Club said two weeks had been deducted from the sentence due to her age.
According to the indictment she had "picked up a stone" to throw at cars on a road used by Israeli settlers near the village and was also in possession of a knife for stabbing security personnel if she were arrested.
Israel arrests about 1,000 children every year in the West Bank, often on charges of stone-throwing, according to rights group Defense for Children International Palestine.
The arrest of Malak brought media organizations flocking to her family's door and attracted more public attention than most because she is a girl.
The Prisoners' Club estimates that 200 Palestinian minors are held in Israeli prisons, but only four are girls, and Malak was the youngest.
A letter from the Palestinian government to the UN in January said around 300 Palestinian children are currently being held in Israeli jails and a total of at least 1,266 were detained in the West Bank and East Jerusalem during 2014.
The majority were between the ages of 12 and 15 but some were much younger, the letter said.
At the time, an Israeli military spokeswoman said Malak was convicted after a plea bargain.
But her father said her confession counted for little.
"A 14-year-old girl surrounded by Israeli soldiers will admit to anything," he said bitterly.
"She would admit to holding a nuclear weapon if she were accused."
AFP, Independent