Iran's Ayatollah Sends New Letter to Obama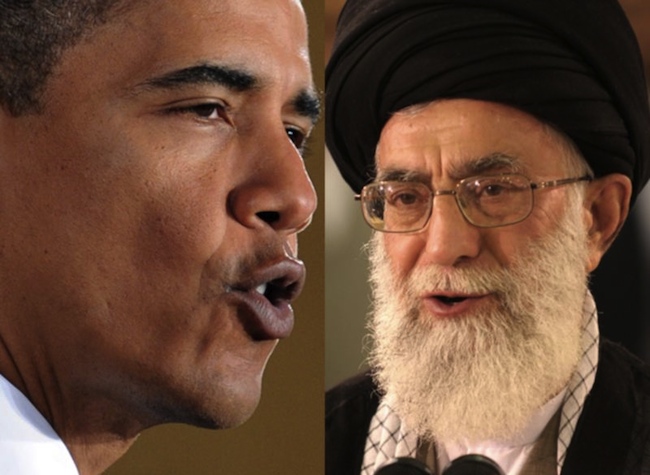 Iran's paramount political figure, Supreme Leader Ayatollah Ali Khamenei, has responded to overtures from President Barack Obama seeking better relations by sending secret communications of his own to the White House.
The Iranian cleric wrote to Mr. Obama in recent weeks in response to an October presidential letter that raised the possibility of U.S.-Iranian cooperation in fighting Islamic State if a nuclear deal is secured, according to an Iranian diplomat. The supreme leader's response was "respectful" but noncommittal, the diplomat said.
A senior White House official declined to confirm the existence of that letter. But it comes as the first details emerge about another letter Mr. Khamenei sent to the president early in his first term.
That letter outlined a string of abuses that in the supreme leader's view the U.S. had committed against the Iranian people over the past 60 years, according to current and former U.S. officials who viewed the correspondence.
The White House official confirmed that the president received that letter in 2009, but declined to comment on the content of any presidential correspondence.
Neither the White House nor the Iranian government has officially confirmed any correspondence between the two. Iranian officials, in recent months, though, have told Tehran's state media that some of Mr. Obama's letters were answered, without specifying by whom.
"The letters of the American president have a history of some years, and in some instances, there have been responses to these letters," said Ali Shamkhani, secretary of Iran's Supreme National Security Council, in November. He added that there were "contradictions" between policies laid out in the letters and U.S. actions, according to a translation of Mr. Shamkhani's comments by Al Monitor, a Mideast-focused website.
Despite its airing of grievances, the first letter in many ways began in earnest the recent historic thaw after more than 30 years of frozen U.S.-Iranian ties, because Mr. Khamenei also didn't rule out the possibility of accommodation with the U.S.
That omission—and the sheer fact of the letter itself—fueled initial White House hopes for some sort of breakthrough in relations on Mr. Obama's watch.
"He left the door open," said one former Obama administration official who saw the letter, the contents of which have never been reported.
That effort is now at a crossroads, with Mr. Obama saying this month that nuclear negotiations with Iran either yield a comprehensive agreement by March 31 orWashington will take steps, including possibly military action, to deny Tehran the capacity to build a nuclear bomb.
Congressional Republicans have invited Israeli Prime Minister Benjamin Netanyahu to address a joint session of Congress next month on Iran, setting off a political firestorm in Washington.
Iran says its program is purely peaceful.
Mr. Khamenei's ambiguity about his willingness to strike a landmark deal has left U.S. officials waging little more than a guessing-game. This unsophisticated art mostly involves picking apart the supreme leader's speeches to try to decipher his state of mind.
Mr. Obama has said that a breakdown in the negotiations could fuel further instability in the Middle East and undercut U.S. efforts to combat Islamic State militants in Iraq and Syria, whom Tehran is also fighting. He has also said Iran could use the end of diplomacy to "break out" and attempt to rapidly build the capacity to produce a nuclear weapon.
Into this mix, Mr. Khamenei has offered conflicting signals to the West.
Last weekend, he appeared to lend support to his nuclear negotiators, saying in a speech he agreed "with the progress in the work our statesmen have done."
Many of Iran's negotiators studied in the U.S., including Foreign Minister Javad Zarif, and are believed to support a rapprochement with Washington.
Still, Iran's supreme leader also set down terms for an agreement in the speech, particularly concerning the pace at which Western sanctions on Iran would be removed, which would almost certainly be rejected by the White House and Congress, said U.S. officials.
"I will agree with a deal if one is made, but I will not approve a bad deal," Mr. Khamenei said in the speech. "No deal is better than any deal which contradicts national interests, a deal which humiliates the great Iranian nation."
Mr. Obama believed previous U.S. overtures to the Islamic Republic failed because they had circumvented the supreme leader's office, the country's most powerful. He moved quickly to write Mr. Khamenei just weeks after taking office in 2009, according to U.S. officials.
In his written response, Mr. Khamenei complained of Washington's long-ago military alliance with the late Persian monarch, Shah Mohammad Reza Pahlavi, and its support for Saddam Hussein during Iraq's eight-year war with Iran in the 1980s.
Some administration officials viewed the fact the Iranian cleric responded at all as a signal he might be willing to forge a compromise on the nuclear file. Neither he nor his predecessor, Ayatollah Ruhollah Khomeini, had ever directly communicated with the U.S. since the 1979 Islamic revolution, said U.S. and Iranian officials.
Mr. Khamenei's failure to reject outright the possibility of a compromise on the nuclear file also raised hopes. "You don't know how important it is for the supreme leader of Iran to actually write a letter to the U.S.," said a second former U.S. official briefed on the correspondence. "It's a sign he recognizes the country."
Other administration officials, including former Defense Secretary Robert Gates, were deeply skeptical.
The two-term defense chief, in his book, "Duty," released last year, briefly described an "exchange of letters" between Mr. Obama and Mr. Khamenei in the spring of 2009, but without offering any specifics.
He said he supported Mr. Obama's correspondence "because I thought that when it failed—as I believed it would—we would be in a much stronger position to get approval of significantly stricter economic sanctions."
Mr. Khamenei never responded to a second letter sent by Mr. Obama that year, according to U.S. and Iranian officials. Obama administration officials had accused Iran's government of rigging the 2009 re-election of then-President Mahmoud Ahmadinejad , a hard-liner.
The election of the more moderate Hasan Rouhani in mid-2013, however, breathed new life into the diplomatic process.
Mr. Obama spoke for 15 minutes by phone with Mr. Rouhani that year. And Secretary of State John Kerry and Mr. Zarif now have regular meetings on the nuclear agreement.
Mr. Obama, meanwhile, wrote another letter to Mr. Khamenei in October, raising the possibility of cooperation in fighting Islamic State, according to people briefed on the exchange.
In his latest response, Mr. Khamenei said improved relations could only be based on mutual trust, said the Iranian diplomat.
The 75-year old Iranian leader received treatment for prostate cancer last September and briefly was hospitalized. But he is believed to have recovered and could seek to weaken Mr. Rouhani, and other more moderate Iranian leaders, if the diplomacy collapses.
"You could see a real escalation of tensions between the U.S. and Iran. It's very dangerous for the Mideast," said Vali Nasr, a former Obama administration official who now leads the School of Advanced International Studies at Johns Hopkins University. "The moderates in Tehran could be effectively purged."
Meanwhile, Mr. Khamenei has increasingly asserted himself into the nuclear diplomacy.
In July, he appeared to blindside his negotiators in Vienna by publicly stating Iran would need nearly 200,000 centrifuge machines to produce nuclear fuel in the coming years. The Obama administration has been trying to negotiate them below 5,000.
In his Feb. 8 speech, the supreme leader also said any agreement reached next month must include the complete dismantling of Western sanctions on Iran. U.S. negotiators have been discussing a phased repeal that could take years.
"The sanctions must literally be taken away from the hands of the enemy. The sanctions must be lifted," Mr. Khamenei said.
Iran experts worry Mr. Khamenei is demanding terms so high that they will sink the talks and underpin his narrative that the Americans can't be trusted.
"Khamenei has had a three-part approach toward the nuclear talks," said Karim Sadjadpour, an Iran analyst at the Carnegie Endowment for International Peace, a Washington think tank. "Support the negotiations, undermine the negotiations with impossible redlines, and prepare the country for a 'resistance economy,' which implies no deal."
WSJ