Ten years after Hariri assassination, Syria and Hezbollah remain in crosshairs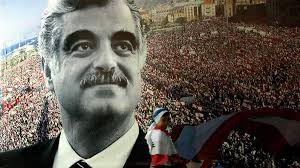 A decade after former prime minister Rafiq Hariri was assassinated, hopes that the fallout from his death would free Lebanon from Syria's influence have been dashed by the war raging across the border.
"Ten years, 100 years, 1,000 years, we will stay faithful to you" declare the billboards going up around Beirut as the country prepares to mark the February 14, 2005 murder of Hariri.
In the months that followed, a popular movement that accused Damascus of his killing forced Syrian troops out of Lebanon after a 30-year presence.
Many in the country saw the Syrian withdrawal as a chance for Lebanon to shake off the influence of its larger neighbour and its perpetual status as a pawn in wider regional struggles.
Yet the Lebanese public and analysts now see little cause for hope, with Syria's civil war deepening divisions that emerged after Hariri's death.
Lebanon is fractured between Hezbollah-led supporters of President Bashar al-Assad and his regional ally Iran, and a camp that backs the Syrian uprising and is allied with Saudi Arabia and the United States.
Hariri had close links to Sunni-ruled Saudi Arabia, which vies with Shiite Iran for influence in the Middle East.
After the assassination "Lebanon entered the orbit of Damascus, Tehran and Hezbollah, and this axis continues to prevail," said Daoud al-Sayegh, a former advisor to Hariri.
The division is at the root of ongoing instability, including a string of bomb attacks that have targeted both sides.
It has also contributed to a political stalemate that has left the country without a president for eight months, the longest such vacuum since the end of the 1975-1990 civil war.
On the country's borders, the under-equipped Lebanese army is struggling to keep jihadists from Syria at bay, and in the streets residents fear the next conflict is around the corner.
Syria never forgave him
"The country has collapsed since Hariri's assassination," said a resident of Beirut's Ain al-Mreisse district, where Hariri and 22 others were killed by a suicide bomber in a car.
Far from bringing together the country and freeing it of Syrian influence, analysts say the decade since Hariri's death has served to cement the preeminence of the Shiite movement Hezbollah, a key ally of Damascus.
"This murder has had the effect of a coup d'etat," said Hilal Khashan, political science professor at the American University in Beirut.
Hariri "represented the Saudi project, and with him gone, it's the Iranian project that has taken over."
Khashan said Hariri had sought to "transform the country into a symbol of moderation and a safeguard against extremism."
"He was assassinated before he could do that," he said.
Nicknamed "Mr Lebanon," Hariri was known for his patience and "represented a moderate Sunni Muslim current," Khashan added.
"After his murder, extremist Sunnis began to appear" in Lebanon, he said.
Hariri served as prime minister under Syrian influence from 1992 to 1998 and again from 2000 to 2004.
He was vehemently opposed to Damascus's imposed extension of president Emile Lahoud's term in 2004, but was coerced into voting for it.
Angered by Hariri's opposition, Syria's Assad reportedly threatened to "destroy Lebanon on top of his head."
With the support of Riyadh and his close friend French former president Jacques Chirac, Hariri backed a UN Security Council resolution calling on foreign troops to leave Lebanon.
"The Syrians never forgave him," Khashan said.
"Hariri put Lebanon on the international map, and that angered them," added former advisor Sayegh.
In a first for Lebanon, the frequent scene of political assassinations and intrigue, Hariri's murder is being prosecuted before the Special Tribunal for Lebanon at the Hague.
The court has indicted five Hezbollah members for their involvement, but the movement has refused to turn them over, accusing the tribunal of being an "Israeli-American tool".
In the months after Hariri's assassination, the murder was seen as a sort of "founding event for the unity of the country," according to Fares Souaid, a member of the movement that emerged against the Syrian regime after the ex-premier's murder.
But "10 years later, we are seeing the weakening of the state and communities returning back behind their barricades."
Several events will be held in Beirut to mark the anniversary including a gathering at the site of the attack, where a flame will be lit in his honor, and a prayer at his tomb.
Hariri was often criticized for marrying politics and business and running up huge debts in his reconstruction projects.
But he also attracted investors, many of whom now shy away from Lebanon because of the violence, instability and spillover from the Syrian war that followed his death.
"The Lebanese are unable to free themselves from a situation where they are hostages of the region's conflict," said Sayegh.
AFP