Obama attended a prayer meeting along with Dalai Lama despite China's warnings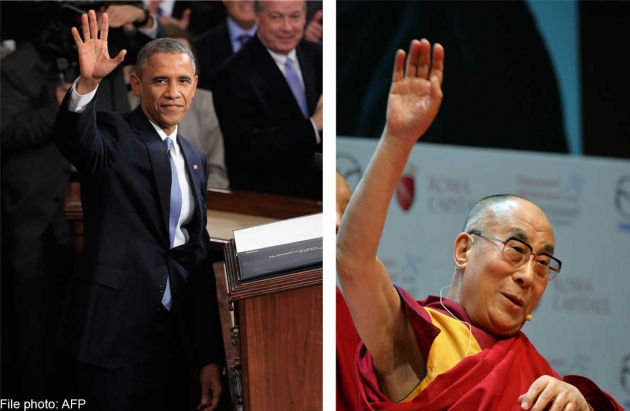 U.S. President Barack Obama walked a diplomatic tightrope on Thursday when he attended a prayer meeting along with Tibetan spiritual leader the Dalai Lama, apparently balancing his administration's policy of measured cordiality with His Holiness with the need to avoid incurring the wrath of Beijing.
In his remarks at the event, which officials underscored was not organised by the White House, Mr. Obama said, "I want to offer a special welcome to a good friend, His Holiness the Dalai Lama — who is a powerful example of what it means to practice compassion, who inspires us to speak up for the freedom and dignity of all human beings."
In the context of previous meetings that the President had with the Dalai Lama, most recently in February 2014, Mr. Obama added, "I've been pleased to welcome him to the White House on many occasions, and we're grateful that he's able to join us here today."
Although the two leaders did not apparently have a "direct meeting" while His Holiness was in Washington, Mr. Obama was said to have "nodded and smiled at the Dalai Lama," waving after making a namaste gesture toward him, prompting applause. Further, Reuters news agency reported, Senior Obama adviser Valerie Jarrett was seated at the table with the Dalai Lama, which was considered "a sign of White House support for his presence."
Reference to Gandhiji
Mr. Obama also said the "acts of intolerance" experienced by religious faiths of all types in India in the past few years would have shocked Mahatma Gandhi.
"Michelle and I returned from India — an incredible, beautiful country, full of magnificent diversity — but a place where, in past years, religious faiths of all types have, on occasion, been targeted… acts of intolerance that would have shocked Gandhiji," he said.
China's warning
China warned President Obama to avoid appearing with the exiled Tibetan spiritual leader Dalai Lama at Thursday's prayer meeting, saying it amounted to unwanted meddling.
"We strongly oppose any country using the Tibetan matter to interfere in China's internal affairs," Foreign Ministry spokesman Hong Lei told reporters at a regular briefing on Monday in Beijing. "We strongly oppose any state leader to meet with the Dalai Lama in any manner."
Calling Tibet one of China's core interests, Hong urged the U.S. to "honor its promises on the Tibetan issues" and "properly handle relevant matters."
The Hind / YL