Iran's Quds force chief General Suleimani made a quick visit to Lebanon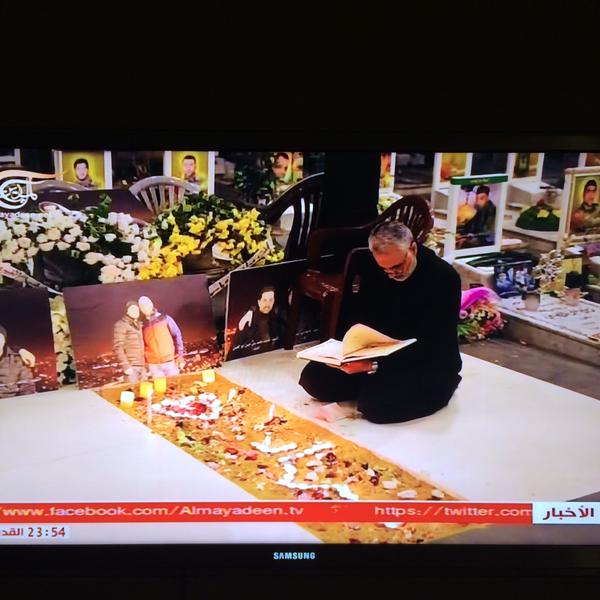 Major General Qasem Suleimani, the commander of the al Quds force of the Islamic Revolutionary Guards Corps (IRGC) paid a visit Thursday to the Beirut grave of Jihad Mughniyeh, who was killed in a the Israeli airstrike in Quneitra, Golan Heights Syria earlier this month, As Safir newspaper reported based on a report by al Mayadeen TV
Soleimani, a close friend of Mughniyeh, was seen laying wreaths at the graves of Hezbollah fighters that were killed in the Isareli strike in Quneitra .
Jihad Mughniyeh 25, was the son of the slain Hezbollah commander who was assassinated in Damascus in 2008 . Hezbollah accused Israel at the time of being behind the assassination
Six Hezbollah commanders and fighters were killed in the January 18 Israeli airstrike in addition to a senior Iranian general.
In addition to paying respect to Mughniyeh's family , Suleimani met privately with Hezbollah chief Hassan Nasrallah and several senior Hezbollah officials.
Suleimani left to Tehran the same day according to As Safir
Its worth mentioning that Hezbollah was established by the Quds force of the Islamic Revolutionary Guards Corps (IRGC) in 1982
According to a semi-official Iranian Fars news report, Suleimani and Mughniyeh, had a relationship "deeper than that of a young man with his father's friend, and those who didn't know, thought he was indeed his son."
Injured in Iraq
Earlier this month a senior Iranian diplomat rejected reports that Suleimani has been injured in Iraq, but admitted he is currently in Iran, the Iranian state owned Press TV reported last Friday .
"Major General Suleimani is in Iran and in good health and the news that he is wounded is false," Iranian Deputy Foreign Minister for Arab and African Affairs Hossein Amir-Abdollahian was quoted as saying on Thursday.
The Iranian statement was in response to a report about Suleimani's injury that first surfaced in the Israeli website DEBKAfile, citing reports from military and intelligence sources in the Gulf. Ya Libnan published a report on the same issue on January 14.
The attack reportedly took place near Samarra in central Iraq, after agents of the Islamic State of Iraq and Syria managed to infiltrate his command staff and get close enough to their target before blowing themselves up. The date of the assassination attempt has not been revealed.
Suleimani was reportedly rushed to a hospital in Tehran, according to the report.