India, US reach a nuclear breakthrough after talks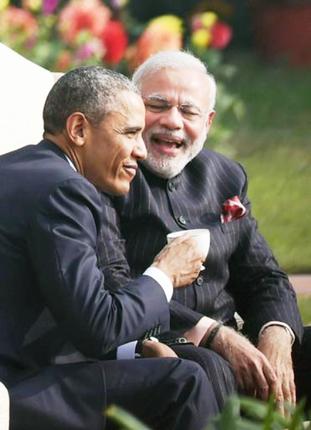 India and the U.S. on Sunday broke the seven-year-old logjam in operationalizing their landmark civil nuclear agreement with an announcement that "the deal is done" after talks between President Barack Obama and Prime Minister Narendra Modi.
In what Mr. Obama called a "breakthrough", the two sides have resolved key hurdles pertaining to the liability of suppliers of nuclear reactors in the event of an accident and the tracking of fuel supplied by the U.S. and other countries for its proposed nuclear plants.
"We have broken the logjam of the past few years. We have reached an agreement. The deal is done," Foreign Secretary Sujatha Singh announced after extended discussions between Mr. Obama and Mr. Modi lasting more than three hours at the delegation level as well as one-on-one chat besides a tete-a-tete on the lawns of the Hyderabad House reflecting the warm personal chemistry between the two leaders.
In his opening remarks at the joint media interaction, Mr. Modi disclosed that on the nuclear deal the two countries "are moving towards commercial cooperation, consistent with our law, our international obligations and technical and commercial viability."
At the outset, both the leaders said they were committed to deepening relations between the two countries and the fact that Mr. Obama is the first U.S. President to be the Chief Guest at the Republic Day celebrations and also the first to visit India twice were signs of the growing relations.
"In the last few months, I see new excitement and confidence in this relationship. I see renewed energy in our engagement. I thank you for your leadership and for setting the tone last September.
"The civil nuclear agreement was the centrepiece of our transformed relationship, which demonstrated new trust. It also created new economic opportunities and expanded our option for clean energy.
"In the course of the past four months, we have worked with a sense of purpose to move it forward. I am pleased that six years after we signed our bilateral agreement, we are moving towards commercial cooperation, consistent with our law, our international legal obligations, and technical and commercial viability," Mr. Modi said.
It was not known how the two countries have overcome the issues of liability clause in the Civil Nuclear Damage Law over which the U.S. reactor manufacturers have serious reservations.
The U.S. is also believed to insisting on tracking fuel supplies, even from third countries, to the reactors their suppliers will be building in India. New Delhi is said to be opposing such a condition as being intrusive and would subject itself only to IAEA safeguards.
On the insurance liability clause, India has been telling the U.S. that it will build a pool that will indemnify American reactor builders against liability in case of an accident.
"Today, we achieved a breakthrough on two issues that were holding up our ability to advance our civil nuclear cooperation and we are committed to moving towards full implementation," Mr. Obama said in his remarks.
"This is an important step that shows how we can work together to elevate our relationship," he said.
Mr. Modi said Mr. Obama has also assured him of strong US efforts in support of India's full membership of the four international export control regimes at the earliest.
"Today, we have also decided to take our growing defence cooperation to a new level. We have agreed, in principle, to pursue co-development and co-production of specific advanced defence projects.
"These will help upgrade our domestic defence industry; and expand the manufacturing sector in India. We will also explore cooperation in other areas of advanced defence technologies," he said.
On terrorism, the Prime Minister said it remains a principal global threat taking on a new character even as existing challenges persist.
"We agreed that we need a comprehensive global strategy and approach to combat with it. There should be no distinction between the terrorist groups. Every country must fulfil its commitments to eliminate terrorists safe havens and bring terrorists to justice," he said.
Mr. Modi said the two countries will deepen their bilateral security cooperation against terrorist groups and further enhance counter-terrorism capabilities including in the area of technology.
Touching on regional cooperation, Mr. Modi said the two countries renewed their commitment to deepen cooperation to advance peace, stability, prosperity in Asia Pacific and Indian Ocean region which is critical for the future of the two countries and the world.
Mr. Modi said they also discussed working on how to help in the transformation of Afghanistan, apparently after complete withdrawal of the U.S. troops.
Mr. Obama said both the countries are going to be strong and reliable partners for people of Afghanistan.
The two leaders said they have decided to scale up their economic relationship including holding talks in future on a bilateral investment treaty.
Mr. Modi said India and the U.S. will also restart discussions on a social security agreement which is important for the hundreds of thousands of Indian professionals working in the U.S.
The Hindu