Europe's Islam Debate Erupts after the Paris massacre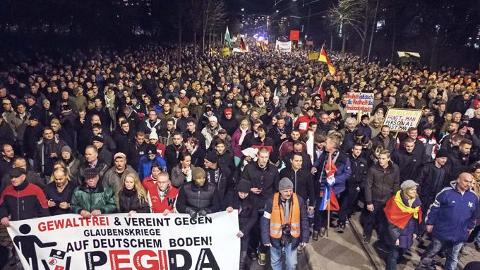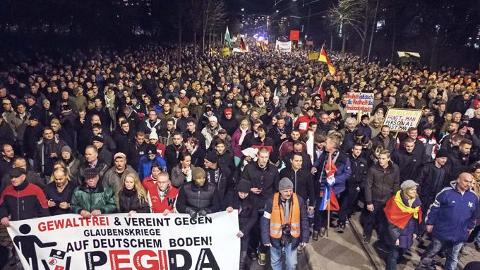 The bodies haven't been buried and the killers are on the loose, but that didn't prevent anti-Islam politicians across Europe from seizing on yesterday's massacre in Paris.
The rhetoric varied in intensity across the European Union's 28 countries, each with its own religious and social phobias, many gripped by an economic recession that makes convenient scapegoats out of immigrants — especially those with veils, turbans and non-white skin.
"I wish my daughter will be free tomorrow to go around without a veil and without any fears," Matteo Salvini, head of Italy's anti-immigration Northern League, said on Twitter. Nigel Farage, leader of the U.K. Independence Party, spoke on LBC radio of a "Fifth Column" gnawing away at Britain and "a really rather gross policy of multi-culturalism." Geert Wilders, head of the Freedom Party in the Netherlands, said it is time to "de-Islamize our country."
The murder of 12 people at a French satire magazine put Europe's fragile politics on display, mobilizing the opponents of the EU's much-heralded open borders and driving mainstream backers of often ill-defined "fundamental values" onto the defensive.
Europe is more vulnerable than the U.S. to radical, anti-immigration leanings. Abutting the newly aggressive Russia and across the Mediterranean Sea from the upheavals of the Arab world, the EU inhabits a dangerous neighborhood, with potential troubles that dwarf what the U.S. faces along its southwestern border.
'Dirty Entanglements'
"One of the problems of Europe today is it is surrounded by regions, in North Africa, the Balkans, the Middle East where these dirty entanglements of corruption, crime and terrorism interact in such a potent way to destabilize the societies," Louise Shelley, a professor at George Mason University in Virginia, told Bloomberg Television.
Historically, Europe was a place people emigrated from. While countries that make up the pacified post-World War II EU have long since entered the multi-ethnic era, with France home to 5 million Muslims, the melting-pot mythology isn't part of the typical European state's DNA.
"In Europe right now there's a tremendous amount of anti-immigration sentiment," Daniel Benjamin, a former U.S. counter-terrorism official now with the Brookings Institution in Washington, said on Bloomberg Television. "The danger here is that we see ever greater confrontations, provocations and the like, and that will drive radicalization. That is a very difficult thing for the authorities to manage."
EU Splits
There is little chance of EU governments uniting around a coordinated immigration policy in the foreseeable future, said Timo Lochocki, a fellow at the German Marshall Fund in Berlin. Nor would a clampdown catch native-born radicals like the suspects in yesterday's attack.
"There's no effect whatsoever of increasing border controls if you're concerned about terrorist threats with a domestic source," Lochocki said. "This applies to the French case and will likely apply in future cases."
Immigration has split Europe between north and south, but not in the way the euro debt crisis did. The protest parties that grew up in financially stricken Greece, Spain and Italy have fed on socialist traditions of justice and welfare, making them largely supportive of newcomers.
The backlash has been concentrated in the better-off north. Some countries like Denmark and the Netherlands fought these battles in the late 1990s and early 2000s, curbing migration but rewarding those that assimilate. Barely concealed anti-Muslim prejudice was behind France's National Front by Jean-Marie Le Pen, founded in 1972 but long a fringe phenomenon.
National Front
Now controlled by Le Pen's more media-savvy daughter Marine, the National Front is riding high in French opinion polls. It got more votes than any other French party in last May's European Parliament elections, allowing it to take its anti-EU message to the EU's heartland.
Le Pen called for France to bring back the death penalty and posted a video denouncing "radical Islam" while defending "Muslim compatriots attached to our country and its values." The political dimension to today's national day of mourning wasn't far from the surface.
Spontaneous rallies in French and major European cities and as far away as Sydney and New York went along with minutes of silence — one organized by Donald Tusk, a former Polish prime minister who became EU president in December — as tokens of respect for the victims and cultural tolerance.
Grenades, Shots

The two messages sat together uneasily. Blank grenades were hurled at a mosque in Le Mans, west of Paris, a bomb went off near a mosque in Villefranche-sur-Saone in the east, and shots were fired at a Muslim prayer hall in southern France, Le Figaro reported.
Adding to the corrosive atmosphere, a policewoman was shot to death south of Paris. A black-garbed suspect was held, BFMTV said. The authorities gave no initial indication of a connection with the killings at Charlie Hebdo magazine in Paris yesterday.
"I anticipate a radicalization of our debate on Islam, of our debate on immigration to some extent, and a conflation of the two by the National Front," said Bruno Tertrais, senior research fellow at the Foundation for Strategic Research in Paris. "The intellectual climate was unfortunately nauseous already."
Germany's Pegida

The murders came as the front in Europe's culture wars reached Germany, where anti-Islamic sentiment had long been unable to gain political traction. The battle lines were drawn late last year when the upstart Pegida movement — German for "Patriotic Europeans Against the Islamization of the West" — took to the same streets in eastern Germany that were gathering points for protests against the Berlin Wall in 1989.
In a Facebook post yesterday, Pegida said the Paris attacks show that Islamists "aren't able to accept democracy, and rely on violence and death as a solution. But our politicians would have us believe otherwise."
Pegida held a meeting today with lawmakers from the anti-euro Alternative for Germany, or AfD, party in the Saxony state parliament. AfD wants tighter immigration and asylum rules and their Saxony leader, Frauke Petry, said after the talks that there's "common ground" between both groups.
At the same time, AfD co-chairman Bernd Lucke said Islam as whole can't be blamed "for the violence committed by two extremists" and Hans-Olaf Henkel, an AfD deputy, said that Europe must help "enlightened Muslims in all Islamic countries" to be more influential.
Pegida, whose first weekly demonstration in the eastern city of Dresden drew a few hundred people in October, has seen its protests grow. About 18,000 people joined a rally on Jan. 5 and the group called on its Facebook site for a big turnout on Jan. 12 "to commemorate the victims" of Paris.
For the 4 million Muslims in Germany, the outcome is combustible. Lamya Kaddor, head of a Cologne-based Islamic association, said the Paris murders could "add fuel to the fires of hotheads on both sides," according to Deutsche Presse-Agentur.
NewsWeek