Did the Hezbollah official resign his Christian role or was fired ?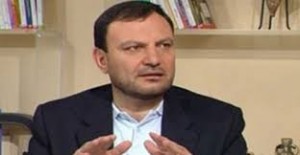 Hezbollah official Ghaleb Abu Zainab, a key member of the party's politburo resigned his position as the coordinator of the party relations with the Christian community and was replaced with Hajj Mahmoud Qumati , according to Lebanese media reports
Qumati told al-Joumhouria newspaper in remarks published on Monday that Abu Zainab resigned for personal reasons.
Qumati stressed that he worked along with Abu Zainab on different levels and coordinated and cooperated in all matters.
Qumati told the daily that he helped Abu Zainab in drafting the 2006 memorandum of understanding with Hezbollah's main Christian ally, the Free Patriotic Movement.
He also pointed out that they were both in the Bkirki's dialogue committee and dealt together with Christian parties affiliated with the March 8 alliance – the FPM, Marada Movement and Tashnag.
"After Abu Zainab decided to step down I was appointed to follow up his tasks due to our previous cooperation in talks with the Christian powers," Qumati told the newspaper stressing that he will continue Abu Zainab's legacy
Abu Zainab's sudden resignation after 14 years of handling the Christian file for Hezbollah came as a surprise specially because he took part Friday in a Hezbollah delegation that offered Christmas greetings to Maronite Patriarch Beshara al-Rahi in Bkirki.
According to sources familiar with the militant party, key officials usually do not resign , but are fired for reasons that are never disclosed.
The party's media department usually issues statements to clarify important issues of this sort , but the party did not issue any statement on Abu Zainab's resignation.
Abu Zainab told Al Jadeed TV that even though he resigned his post , he remains a member of the Hezbollah party.
He also told al-Joumhouria that he submitted his resignation about a month ago and the party accepted it
One source linked Abu Zainab's sudden resignation to the Israeli spy cell that was discovered about a month ago.
Hezbollah has put one of its operatives on trial for treason, after he tipped off Israel about five operations to avenge the killing of Hezbollah's top military commander Imad Mughniyeh, according Lebanese media reports
Hezbollah has arrested the informant – Mohammad Shawraba, head of the party's so-called External Operations Unit, and four from his team about a month ago after they were put under scrutiny for six to seven months, the reports say.
Hezbollah reportedly busted Shawraba after five attempts to carry out operations against Israeli targets to avenge Mughniyeh's 2008 assassination were botched, the reports say.
Shawraba, 42, has been working as a double agent for Mossad for several years.
Update: it has been confirmed that there is link between Abu Zainab's resignation and Shawraba
Shawraba according to the reports is Abu Zainab's brother-in-law. He is reportedly married to Abu Zainab's sister