Afghanistan's Taliban declares 'defeat' of Nato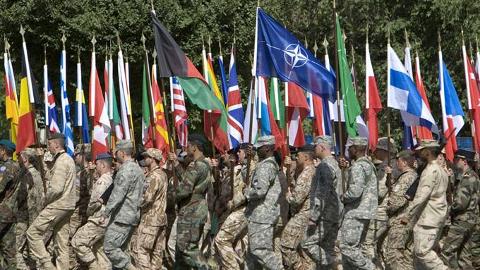 Taliban fighters in Afghanistan have declared the "defeat" of the US and its allies, a day after the coalition officially ended its combat mission.
A Taliban statement said the US-led force had "rolled up its flag" without having achieved "anything substantial".
Nato formally ended its 13-year mission on Sunday, but about 13,000 troops will stay to train the Afghan army.
Meanwhile, officials said four Afghan soldiers were killed in a Taliban attack in Helmand province on Monday.
Three other soldiers were injured during the attack on an army checkpoint in Sangin district. Eight insurgents were said to have been killed.
The US-led International Security Assistance Force (Isaf) marked the end of its mission by lowering its flag at a ceremony in Kabul on Sunday.
Mission commander Gen John Campbell said the Nato force had "lifted the Afghan people out of the darkness of despair and given them hope for the future".
'Demoralised'
But in a statement on Monday, Taliban spokesman Zabihullah Mujahid said the Nato ceremony was "a clear indication of their defeat and disappointment".
He said the Taliban would establish "a pure Islamic system by expelling the remaining invading forces," saying Western troops were "demoralised".
Nato's Afghan deployment began after the Sept/11 attacks against the US.
At its peak, the US-led Isaf deployment involved more than 130,000 personnel from 50 countries.
But from 1 January, the force will consist of about 13,000 troops and will shift to a mainly training and support mission for the Afghan army.
While the US and its allies say the Afghan security forces have been able to prevent a Taliban offensive, violence has increased in recent months.
This year has been the bloodiest in Afghanistan since 2001, with at least 4,600 members of the Afghan security forces having been killed.
Nearly 3,500 foreign troops have been killed since the beginning of the Nato mission in 2001, including about 2,200 American troops.
BBC