Hezbollah chief told Russian envoy Syria's Assad "is a red line"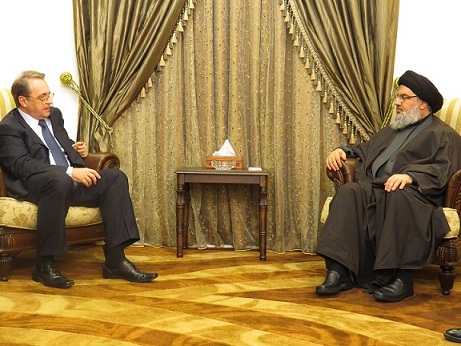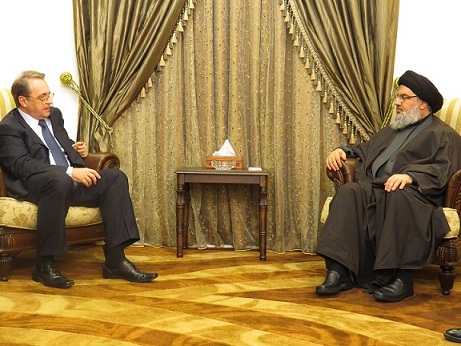 Hezbollah insists that its ally, Syrian dictator Bashar al-Assad, will remain in power. In a message delivered to Russia, the Shiite terror organization made clear that it does not agree that anyone, even from the Alawite sect, should replace the current President as part of any possible solution to the Syrian conflict.
The Lebanese newspaper "Al-Akhbar" reported Hezbollah leader Hassan Nasrallah recently said to the Russian Deputy Foreign Minister Mikhail Bogdanov that Syrian President Bashar al-Assad "is a red line." The two met a few weeks ago in Beirut.
Sources close to Hezbollah told the paper that Nasrallah emphasized to the Russian diplomat that his organization is not only trying to protect Syria against "terrorism," but also to protect Bashar al-Assad. "Any solution must include leaving the President in his post," Nasrallah said.
Hezbollah officially acknowledged in early 2013 that its forces crossed from Lebanon into Syria and are fighting alongside the Syrian regime forces. Hezbollah fighters have enabled the regime to regain control of rebel-held areas in central Syria and have improved the effectiveness of pro-regime forces.
Hezbollah and Assad belong to "The Resistance Axis", an Iran-led alliance of state and non-state actors in the Middle East that seeks to confront Western interests in the region, namely those of the United States and Israel. In recent years, Iran has also cultivated Iraqi Shia militants as the newest members of this alliance. In an think tank research article dealing with this axis, Marisa Sullivan of the Institute for the Study of War wrote:
"The war in Syria presents a significant threat to the strategic alliance of Iran, Syria, and Hezbollah. The Syrian government, the vital conduit between Iran and Hezbollah, is in danger of being overthrown. Iran cannot afford to lose its most important foothold in the Levant, and Hezbollah cannot risk losing its access to critical Iranian and Syrian support. Syria's importance to Hezbollah, however, is not limited to its role as a conduit for financial and material support; the Assad regime has provided safe haven for Hezbollah training camps and weapons storage.
Overall, Hezbollah's support for Assad seeks to achieve three broad objectives. First, Hezbollah seeks to preserve the Axis of Resistance by shoring up the military capabilities of the Assad regime. Second, Hezbollah also seeks to retain access to Iranian and Syrian material support by securing the lines of communication that run from Damascus to Lebanon from any rebel interference. Without the ability to operate within Syria, Iranian support to Hezbollah becomes much more difficult and risks interdiction; Hezbollah's own military capabilities and readiness would suffer without access to this military and financial assistance. Third, the group also seeks to prevent the emergence of a Sunni-dominated regime in Syria should Assad fall."
The Tower Org