Hezbollah in Bkirki reiterates Support for Aoun's candidacy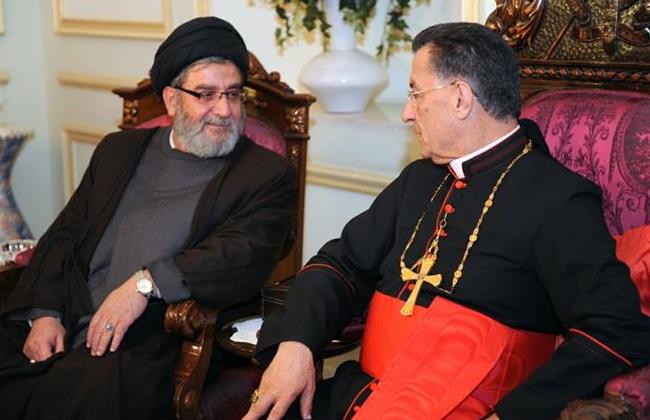 Following talks with Maronite Patriarch Beshara Boutros al-Rai at Bkirki on Friday , Hezbollah's politburo chief Sayyed Ibrahim Amin al-Sayyed told reporters that the party continues to support Free Patriotic Movement leader MP Michel Aoun's candidacy for president.
"Aoun is a competent person who is capable of playing a positive role if he was elected as a president and he can assume responsibilities amid the difficult situation" the country is passing through, al-Sayyed said.
The delegation met with the Patriarch to to wish him Merry Christmas and to discuss local and regional development
Al-Sayyed revealed that talks with Patriarch highlighted the presidential deadlock, saying: "The patriarch is sincere and wants to reach a happy ending regarding the presidential dead-end."
Al-Sayyed stressed that ties between the party and al-Rai will never be broken "even if we have different points of view."
The Lebanese parliament failed on Dec 10 and and for the 16th time in a row to elect a president to replace Michel Suleiman whose term ended on May 25.
As in the past sessions the parliament was unable to reach a quorum because the Iranian backed Hezbollah militant group and MP Michel Aoun's Change and Reform bloc MPs boycotted the sessions.
Commenting on the situation in Syria Al-Sayyed said there will be a light at the end of the tunnel.
"Despite the conflicts in the region and its impact on Lebanon, especially regarding the takfiris, there will be a light at the end of the tunnel," al-Sayyed said ,adding that Hezbollah "considers that there's a political solution for the conflict in Syria."
The conflict in Syria, now in its fourth year, has continued to fuel sectarian tension inside Lebanon, with the Shiite Hezbollah group's ongoing military support for al-Assad's Alawite-dominated regime drawing condemnation from Arab Sunni groups.
Asked about the dialogue with Future Movement,Al-Sayyed described talks as "positive."
"Al-Rai is optimistic and valued the dialogue path and encouraged it." He said
The dialogue talks between between Future Movement and Hezbollah started on Tuesday at the residence of Hezbollah's ally Speaker Nabih Berri in al-Tineh.
A statement was issued after Ain al-Tineh dialogue session which stated that Hezbollah and Future Movement stressed their keenness and willingness to start serious and responsible dialogue over the various issues and agreed to continue dialogue in a positive manner which contributes to alleviating tensions and managing the disputes.
The statement added: The meetings are not aimed at forming a new political alignment in the domestic arena and they are not meant to be against anyone.