Iranian speaker says Hezbollah more effective than a state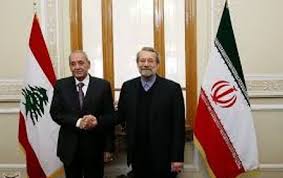 Speaker of the Iranian Shura Council Ali Larijani , currently in Beirut, has hailed what he described as the "positive" role played by the Shiite Hezbollah militant group in the Middle East.
"There are groups that are even more effective than states… like Hezbollah, which plays a positive role in the region," Larijani said during a lecture delivered at the law faculty of the  Lebanese University in Beirut.
Larijani praised Hezbollah  for its resistance  role in the Israeli 33-day war in July 2006 .
"This is a great advantage for the Lebanese people to bear the flag of resistance and to have demonstrated a new approach in the Islamic world," Larijani said.
"[Palestinian groups] Hamas and Islamic Jihad also serve as powerful symbols of resistance," he added, while warning of the potential impact of "destructive terrorist groups like the ISIL."
As for the situation in Syria, a strong ally of Tehran, Larijani said that political and social reform could not be imposed "through warplanes and tanks."
"The key to solving the Syria crisis is political compromise," he stressed.
Addressing the current situation in Lebanon Larijani welcomed the talks between Hezbollah  and Future movement about  holding dialogue  meetings and said  the "presidency in Lebanon is an internal issue and other countries can only help this trend"
Larijani came to the Lebanese capital earlier Monday from Damascus, where he had met with Syrian President Bashar al-Assad a day earlier.
Larijani said in a statement to journalists upon arrival at Damascus airport on Sunday  that his visit to Syria aims at providing support to the Syrian Government and people, in addition to discussing the current situations as well as consulting with Syrian officials with regard to solving the standing political issues, SANA reported
Larijani  is now  holding talks with several senior Lebanese government officials and political figures.
He first met with Prime Minister Tammam Salam at the Grand Serail and then went into talks with Speaker Nabih Berri in Ain el-Tineh, a key ally of the Iranian backed Hezbollah militant group.
Following the meeting in Ain al-Tineh Speaker Berri told reporters
"We thank Iran for supporting Lebanon and the resistance ( Hezbollah)  in particular " .
Before the outbreak of the "Arab Spring" uprisings, Syria, Iran and Lebanon's Shiite Hezbollah movement – along with Hamas – had all been part of a so-called "axis of resistance."
On the other side of the equation stood a U.S.-friendly "axis of moderation," including Saudi Arabia, the United Arab Emirates, Jordan and Egypt (under then-president Hosni Mubarak).
Upon the outbreak of the Syrian uprising in 2011, Hamas refused to support the Syrian regime, straining relations between the two and prompting Hamas' leadership to decamp from Damascus.
Recent months, however, have seen Hamas and Iran – Syria's ally– taking tentative steps towards reconciliation.
The conflict in Syria, now in its fourth year, has continued to fuel sectarian tension inside Lebanon, with the Shiite Hezbollah group's ongoing military support for al-Assad's Alawite-dominated regime drawing condemnation from Arab Sunni groups.
Agencies