World's deadliest sea is the Mediterranean, 3419 died trying to cross it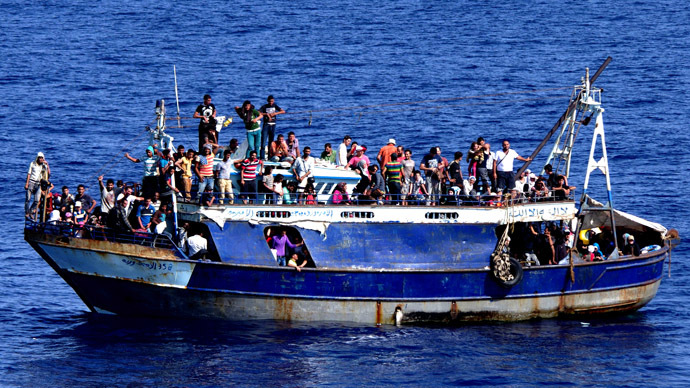 The world's deadliest sea is the Mediterranean, the United Nations refugee agency tells us, reporting that more people than ever are embarking on risky sea crossings in search of a better life.
The UN said the previous high of about 70,000 in 2011 during the Libyan civil war has roughly tripled. Syrians and Eritreans make up half the total.
The surge in numbers coincides with growing anti-immigration feeling in many countries, prompting UN human rights chief Antonio Guterres to criticize states as 'mean-spirited'.
The bulk of arrivals has been in Europe: more than 207,000 people crossing from the Middle East and countries in Africa since January 1st; 3,419 died trying.
Rasha Almasri, Syrian, described her experience: "We stayed at sea for a week, really suffering, seven black days in the middle of the sea. Each day the smugglers told us we would leave tomorrow. They kept bringing more migrants out to the boat, filling it and filling it. Eventually, the engine failed and we were stuck. Then an Egyptian warship caught us and brought us here."
Libya still has armed internal conflicts getting worse. It can't control its vast border, so much in the desert. Migrants make their way through it to the Mediterranean.
Amer Bashier, an official on the front line in Sebratha, in the northwestern corner of Libya, said: "We get illegal immigration with asylum seekers coming from Eritrea, Ethiopia and Somalia, also a lot of Syrians now, as a lot more of them are trying to reach Europe."
Sebratha fishing port is a major starting out point for attempts to reach Italy.
Other bodies of water criss-crossed by people fleeing war and desperation include the Red Sea and the Gulf of Aden. This year, 82,680 people took that route from the Horn of Africa, trying to reach the rich Persian Gulf countries; 242 are known to have paid with their lives.
In the Bay of Bengal 540 died from among 54,000 boat people.
The UNHCR says at least 384,000 people have taken to the seas this year. Almost 4,300 died trying to reach safety — eight out of ten of them crossing the Mediterranean.
Euro News