Israel jets strike near Damascus: Updates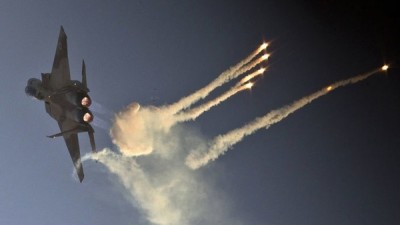 Israeli jets launched strikes against two security sites near the Damascus on Sunday, including one near the capital's international airport, Syria's state-news agency reported.
The agency said Israel had committed an "aggression" against Syria by "targeting two security areas in the outskirts of Damascus."
The agency said the two sites were in Dimas and near Damascus' International Airport, adding that there were no casualties.
Reports of the attack were earlier carried by Hezbollah's Al-Manar television.
Israel is suspected to have carried out a series of air strikes on Syria since the uprising in the Arab country almost four years ago.
Most of the strikes have targeted sophisticated weapons systems, including Russian-made anti-aircraft missiles, believed to be destined for Lebanon's militant Hezbollah group.
While Israel has tried to stay out of the war in neighboring Syria, Prime Minister Benjamin Netanyahu has repeatedly threatened to take military action to prevent Syria from transferring sophisticated weapons to its ally Hezbollah.
Al Arabiya/agencies
Update: LBCI reported that Israel  announced that the raids near Damascus targeted weapons destined for Hezbollah.
This development comes 2  days after Iranian Brigadier General Esmail Qa'ani, said the missiles of Hezbollah are capable of wiping out Israel.
Update: Residents in Damascus said they heard loud explosions . Syria's army general command said on state television that there were "material losses in some facilities." It said the strike benefited al Qaeda.
A resident in the Damascus suburb of Qudsaya, close to Dimas, said the agricultural airport in Dimas was hit.
Dimas is in a mountainous area to the northwest of the capital which is under government control and close to several military installations.
The Syrian Observatory for Human Rights, which tracks the conflict through a network of sources on both sides, said  one missile hit a warehouse for imports and exports at the Damascus international airport.
Update: According to reports, the Israeli air force flew at least 10 sorties over the Dimas area and attacked several military targets.
Al-Mayadeen, television channel which is is closely associated with Hezbollah and the Syrian regime reported that Syrian anti-aircraft batteries stationed at the airport had fired two missiles at the planes during the attack.
Salim Idris, a former commander of the Free Syrian Army, speculated that the targets pf the attack may have been Hezbollah arms depots.
Lebanese sources that the Israeli air force had been flying over southern Lebanon since Sunday morning. It was not specified whether the planes entered Syrian air space or fired from within Lebanese air space.
Here are some pics of the raids as reported in social media