Netanyahu's latest electoral gamble may backfire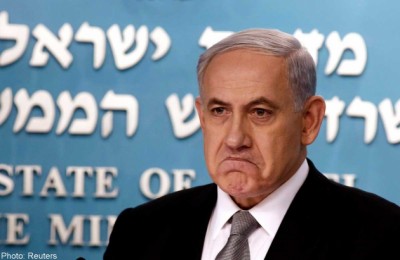 By:Jonathan Eyal
The date has been set for Israel's fourth general election in a decade: March 17, 2015. Prime Minister Benjamin Netanyahu claims the ballot will be about principles, about the "very survival of Israel in its current shape"; in fact, the upcoming election is merely a referendum on his continued rule.
And while all opinion polls currently project Mr Netanyahu's centre-right Likud party is likely to come first in the ballots, thereby allowing the Prime Minister a rare historic opportunity of forming his fourth administration, the Israeli electorate is notoriously fickle. This may turn out to be one gamble too many for the man who has dominated Israel's politics over the past two decades.
Mr Netanyahu has been squabbling for months with his centre-left coalition partners over a proposal to enact a fundamental new law declaring Israel the "nation-state of the Jewish people". The premier insisted his bill is essential to defending Israel's future. But Mr Yair Lapid, the finance minister and leader of the centrist Yesh Atid party, and Mrs Tzipi Livni, the justice minister who heads the left-leaning Hatnua party, dismissed the proposed legislation as merely a "manifestation of the Prime Minister's extremism".
In fact, the debate about Israel's "Jewish national identity" is irrelevant. Current Israeli law already promotes the Jewish faith and institutions; Jewish religious anniversaries are treated as official national holidays. More importantly, under its so-called Law Of Return, Israel grants an automatic right of citizenship to any Jew, anywhere in the world. In short, Mr Netanyahu's claim that Israel needs fresh legislation to defend its Jewish character is a classic example of a solution, in search of a problem.
Still, Mr Netanyahu used his controversial law to break up the government. One reason for his decision is that the Israeli Prime Minister never liked his current Cabinet: Traditionally, Mr Netanyahu's Likud party prefers to rule together with a string of small religious parties but, since the 2013 ballots were inconclusive, Mr Netanyahu was forced into a different kind of coalition arrangement.
By bringing down the government with a dispute over the Jewish character of the state, Mr Netanyahu not only diverts the debate away from bread-and-butter issues, but also makes a direct pitch for the support of the religious parties. Current projections indicate Mr Netanyahu and his religious allies could gain 65 out of the 120 seats in the Knesset, Israel's Parliament.
And, by opting for an early election, Mr Netanyahu may also be aiming to influence Israel's vital strategic link with the United States. If he gets a fresh mandate, Mr Netanyahu will be able to present himself to the US presidential contenders as the only Israeli leader with whom they would have to deal should they gain the White House.
However, there are plenty of factors which can still upset Mr Netanyahu's electoral gamble. Opinion polls released after the government's collapse indicated that more than two-thirds of Israeli voters blame him for the early election, which most of the electorate dismisses as a waste of time and resources. That's not a good omen for Mr Netanyahu's Likud.
Three months of arduous campaigning add to the unpredictability. Over the past 25 years, four Israeli elections were fought at a time when Israelis felt insecure, and in three of them the sitting prime ministers lost.
Finally, there is the question of Mr Moshe Kahlon, a government rebel who has just launched his own party, focusing on social issues and particularly on the growing poverty divide among Jewish voters. "Our economy is like a circus; the exploitation of distressed workers and the social disparities must not continue," he said yesterday.
Mr Kahlon's populist appeal appears to be working, with polls already indicating he can win anything between six and 16 parliamentary seats, thereby upsetting Mr Netanyahu's calculations.
The Prime Minister is still the man to beat in the election. But Mr Netanyahu is far from being unbeatable.
This article was originally published in the The Straits Times