Russia's Bogdanov concluded his Lebanon visit after meeting Hezbollah chief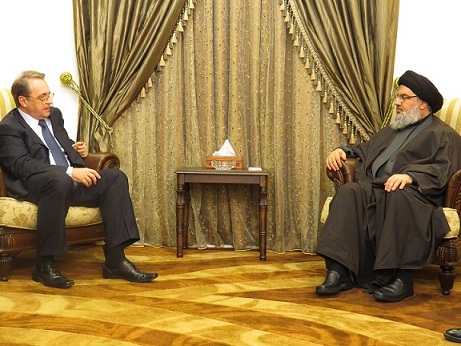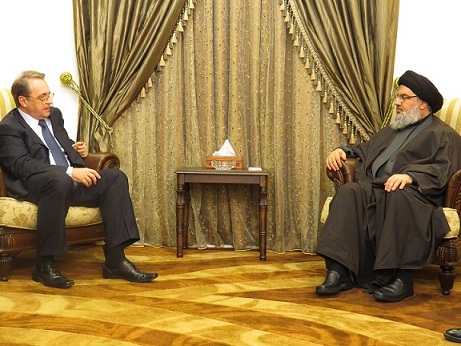 Russian Deputy Foreign Minister Mikhail Bogdanov concluded his visit to  Lebanon  on Sunday  after meeting  with  Hezbollah leader Hassan Nasrallah  at an  undisclosed location as part of his  four-day trip to the region, which focused on finding a peaceful solution to the Syrian civil war.
Bogdanov, who arrived  arrived in Beirut on Thursday met with  several Lebanese leaders, including Foreign Minister Gebran Bassil, Prime Minister Tammam Salam, parliament speaker Nabih Berri, former president Michel Suleiman,  Hezbollah's parliamentary bloc leader MP Mohammad Raad., FPM leader MP Michel Aoun, PSP leader Walid Jumblatt, former president Amin Gemayel and Army Commander Jean Kahwagi.
It is not clear why Bogdanov and Lebanese Forces leader and presidential candidate Samir Geagea did not meet this time even though they met during Bogdanov's April 2013 visit to Lebanon.
Asked whether he was on a specific mission to discuss the presidential vacuum after meeting Bassil, Bogdanov said: "That's a secret."
Lebanon has been without a president since May 25 when Michel Suleiman ended his tenure without a replacement due to differences between the country's main rival  coalitions.
Purpose of the trip 
Bogdanov was  reportedly in Lebanon to commemorate the 70th anniversary of the establishment of diplomatic ties between Lebanon and Russia at a ceremony that was  held at UNESCO Palace in Beirut on  Friday but Bogdanov told reporters that  Moscow was holding contacts between the Syrian government and the opposition to launch new, unconditional talks to end the crisis in the war-torn country.
"We are in contact with the Syrian government and the opposition inside and outside [of Syria] and our mission is to organize consultative, preparatory contacts for serious negotiations without preconditions so that the Syrians can come together and begin talks about proposed issues," he  said after his meeting with Lebanon's Parliament Speaker Nabih Berri in Ain al-Tineh on Friday
"At the end, the Syrian people represented by the government and the opposition are the decision makers on their fate and future so that Syria can remain a united country and people."He said
Russia has been Syria's main international backer since the conflict erupted in March 2011.
Opposition off to Russia
A delegation of Syrian dissidents  that are tolerated by President Bashar Assad's regime will travel  on Sunday to Russia for meetings with officials, days after government members discussed a new peace process there.
The meeting with Russia's Deputy Foreign Minister Mikhail Bogdanov would include talks "on a political solution, the role of Syria-based opponents and (U.N. envoy) Staffan De Mistura's initiative," said delegation member Maher Merhej.
The eight-member delegation is expected to return on December 15.
Merhej, who heads the Syrian National Youth movement, has been working together with the leaders of three other minor movements since November 2012.
Civil society activist Souheir Sarmini is also to travel to Moscow, alongside three MPs, including leading Baath party member Faisal Azzuz, tribal representative Nawaf al-Melhem, and independent politician Hussein Ragheb.
News of their journey came as Bogdanov met in Beirut with Hassan Abdel Azim and two other members of the main regime-tolerated National Coordination Committee for Democratic Change.
In November, a delegation of military and political rebels headed by key opposition figure Ahmad Moaz al-Khatib traveled to Moscow.
His delegation was followed by a visit by Syrian regime officials, among them Foreign Minister Walid Muallem.
No date has yet been announced for the start of a possible new peace process that Moscow is preparing.
Syria's war has killed more than 200,000 people and forced half the population to flee their homes.
YL/Agencies