Raqqa strikes' death toll rises to 95, activists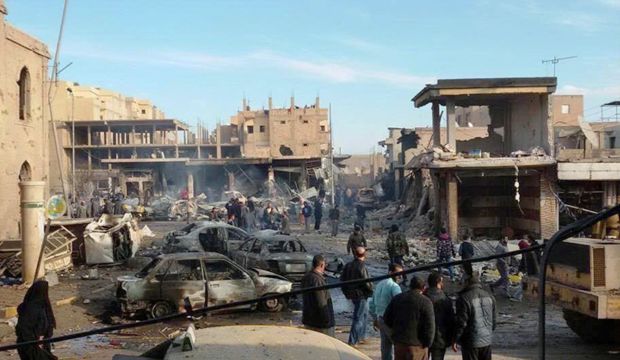 The death toll from a series of Syrian government airstrikes on the Islamic State of Iraq and Syria (ISIS) stronghold in northeastern Syria has risen to at least 95, making it one of the deadliest attacks on the city of Raqqa in the past three years, activists said Wednesday.
Some of the Tuesday airstrikes hit a popular market near a museum and an industrial neighborhood, causing many civilian casualties.
The Britain-based Syrian Observatory for Human Rights raised its death toll Wednesday to 95. Its director, Rami Abdurrahman, said the dead include 52 civilians whose names the group was able to document. They include three women and four children, he said. At least 120 others were wounded in the strikes, according to the group.
Other activists, including the Local Coordination Committees and a Raqqa-based collective called Raqqa is Being Silently Slaughtered, estimated more than 100 people had been killed. It was not clear how many militants were among those killed.
The Associated Press could not independently confirm the death toll—one of the worst single-day tolls in the city, which is completely under the control of ISIS.
The Syrian government as well as the US-led coalition frequently bomb ISIS targets in Raqqa, but it was not immediately clear what prompted Tuesday's unusually intense attacks. ISIS has slaughtered hundreds of Syrian soldiers in the past few months, and recently posted a video showing what it said was the beheading of more than a dozen Syrian soldiers, including officers.
In Iraq, security forces backed by Sunni tribesmen repelled an assault by ISIS militants on a government complex in the center of Ramadi, the provincial capital of western Anbar province, said officials. Soldiers, supported by army helicopters, were able to fend off the attack, according to the officials who spoke anonymously because they were not authorized to brief the media.
ISIS militants have overrun a large part of Anbar province in a push to expand their territory. The group now controls about a third of Syria and Iraq, declaring the territory as part of its self-described caliphate.
Meanwhile, United Arab Emirates Foreign Minister Sheikh Abdullah Bin Zayed Al Nahyan made a surprise visit to Baghdad for meetings with Iraqi Prime Minister Haider Al-Abadi and other senior Iraqi government officials. The UAE is part of the US-led coalition conducting airstrikes in Syria but has thus far refrained from military involvement in Iraq.
Also Wednesday, the US said it had launched several airstrikes in Iraq and Syria since Monday. Near the northern Syrian town of Kobani, ten airstrikes struck targets including a militant fighting position, as well as several staging areas and fighting positions. In Iraq, airstrikes near Mosul destroyed an ISIS bulldozer, two vehicles, three ISIS-occupied buildings and an ISIS fighting position. The US also hit targets near Kirkuk, north of Sinjar and northwest of Ramadi.
Asharq Al-Awsat