28,000 homes damaged in Gaza during war with Israel, report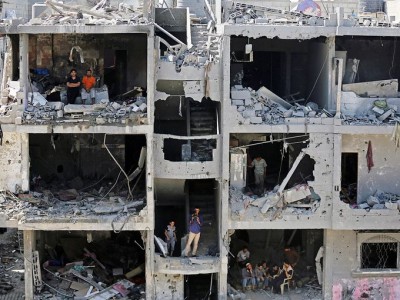 The minister of public works and housing in Gaza on Thursday released new statistics about damage caused by Israel's military offensive during the summer, as the reconstruction process slowly begins.
Mufid al-Hasayneh said that 28,000 homes were damaged during Israel's offensive, with 3,000 completely destroyed. Over 88,000 affected families have registered with the UN refugee agency, he added, while over 13,000 families are receiving financial aid.
Repair work has begun on the homes of over 11,000 families while 900 have received financial assistance for rent, plus $500 each family.
Over 100 mobile homes have been built in the devastated Khuza neighborhood while another 1,000 are being prepared for installation in the al-Shujaiyeh neighborhood and 1,000 more throughout the Gaza Strip.
So far, Israel has only allowed in five percent of the required material needed for reconstruction, al-Hasayneh said.
The removal of rubble will begin on Friday.
Israel has maintained a blockade on the Gaza Strip since 2006, crippling the tiny coastal enclave's economy.
Maan News