US hostage Kassig executed by IS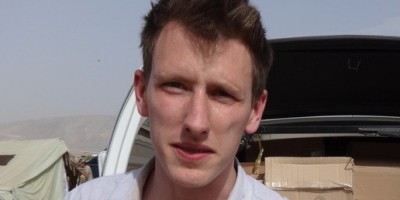 A video posted online claims to show that Islamic State militants have killed the captured US aid worker Abdul-Rahman Kassig.
In the video, a masked militant stands over a severed head which he says is that of Mr Kassig.
The US says it is working to determine the authenticity of the video, which also shows a mass killing of Syrian troops.
Mr Kassig, also known as Peter, was captured last year.
His family, who live in the US state of Indiana, said they were awaiting confirmation of the reports about their "treasured son" and had nothing more to say at this time.
If his death is confirmed, the 26-year-old will be the fifth Western hostage to have been killed by IS, following the murders of British men Alan Henning and David Haines, and US journalists James Foley and Steven Sotloff.
The US National Security Council said the intelligence community was working as quickly as possible to determine the latest video's authenticity
"If confirmed, we are appalled by the brutal murder of an innocent American aid worker and we express our deepest condolences to his family and friends," NSC spokesperson Bernadette Meehan said.
One of the masked militants pictured in the video appears in size and dress to resemble so-called Jihadi John, a man believed be from Britain who carried out the killing of the four Western hostages.
The video emerged on the same day as an unconfirmed report in Britain's Mail on Sunday newspaper suggested he had been injured in a recent US-led air strike on a gathering of IS leaders.
British PM David Cameron said he was "horrified by the cold blooded murder" and said that Islamic State militants "have again shown their depravity".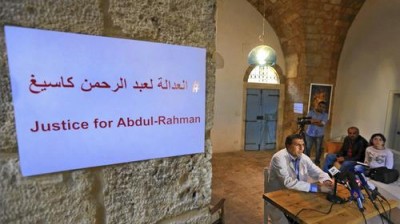 Emotional letter
Mr Kassig's parents last month released extracts of a letter written by their son, in which he told of the strains of captivity.
"This is the hardest thing a man can go through, the stress and fear are incredible," the aid worker wrote.
"They tell us you have abandoned us and/or don't care but of course we know you are doing everything you can and more.
"Don't worry Dad, if I do go down, I won't go thinking anything but what I know to be true. That you and mom love me more than the moon and the stars."
Mr Kassig was a former US Army Ranger who served in Iraq.
He later trained as an emergency medical technician, travelling to Lebanon in May 2012 to work in border hospitals treating Palestinian refugees and later those fleeing the Syrian conflict.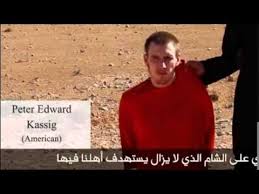 Later that year, he founded the Special Emergency Response and Assistance (Sera) organisation and subsequently moved its base of operations to southern Turkey, near the border with Syria.
Mr Kassig sourced and delivered supplies to camps on both sides of the Syrian border, and helped to treat civilian casualties and train medics inside Syria.
He was undertaking a project for Sera when he was captured in October 2013 while travelling to eastern Syria.
Analysis by Frank Gardner, BBC security correspondent

This is perhaps the most elaborate and graphic of all the murder videos posted online by IS.
Much of it is taken up with a recent history lesson on Iraq and Syria as seen through the eyes of the jihadists. But the latter part shows a mass beheading of Syrian prisoners in revolting, lingering detail.
Unlike earlier videos, this one revels in gore. Amongst the boiler-suited captives murdered in cold blood is a man IS says is the former US soldier Peter Kassig, who converted to Islam and changed his name to Abdul-Rahman.
Neither his conversion nor the fact that he was helping refugees when he was captured a year ago, appear to have saved him.
Mr Kassig's murder shows that IS have no intention of toning down their bloodlust to appeal to more followers.
It is also a sign of frustration that they are unable to hit back at the coalition air strikes that have driven them off key sites like the Mosul and Haditha dams, and prevented them from seizing the town of Kobane.
BBC