UN envoy: Hezbollah's arms are a "clear obstacle" facing Lebanon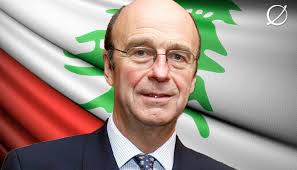 U.N. Special Coordinator for Lebanon Derek Plumbly revealed to the U.N. Security Council on Wednesday that Hezbollah's arms are a "clear obstacle" facing the state, undermining its authority and preventing it from controlling all its territories.
Plumbly was briefing U.N. Security Council on the implementation of the resolution 1701. He expressed deep concern about the involvement of Hezbollah and other Lebanese fighters in the Syrian conflict . He demanded they should all withdraw from Syria and stressed the need to neutralize Lebanon through the implementation of the Baabda Declaration.
Thousands of Hezbollah fighters are in Syria to back President Bashar Assad's forces against rebels trying to topple his regime . The armed intervention in Syria earned the group the enmity of Syria's predominantly Sunni rebels. Assad is a member of the Alawite sect, an offshoot of Shiite Islam.
Hezbollah's intervention in the war on the side of the Syrian government, and the involvement of pro-rebel Lebanese fighters have been seen as violations to the agreement.
Plumbly also expressed concern over the attacks launched by extremist groups, including the Islamic State and al-Qaida-affiliate al-Nusra Front, against the Lebanese army.
"The issue of elements from Lebanon who might be fighting in Syria causes (international) concern, thus the importance of respecting the Baabda Declaration agreed among (Lebanese) political factions," Plumbly said.
The Baabda Declaration, spearheaded by former Lebanese President Michel Suleiman, was reached by the national dialogue committee grouping Lebanon's rival factions in June 2012. It provided for preserving Lebanon's security and unity by distancing it from Syria's conflict.
Plumbly also addressed in his report the issue of violations committed on the Blue Line on Lebanon-Israel border, stressing however that relative calm has been largely maintained in the area over the past eight years, benefiting people on both sides of the border.
Resolution 1701, which ended the Hezbollah-Israel war in 2006, expanded the mandate of U.N. troops in the South, which was originally formed in 1978 after the outbreak of Lebanon's 1975-1990 civil war.
Plumbly also addressed other issues including the Syrian refugees who now make up 30 percent of Lebanon's population and the election of a new head of state .
The country has been without a president since Suleiman's term ended last May