Lebanon food scandal: More horror stories revealed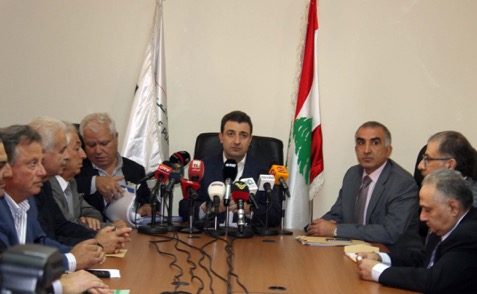 Lebanese Health Minister Wael Abu Faour revealed more horror stories Tuesday about food safety in Lebanon and disclosed that some of the most popular restaurant chains and supermarkets are serving customers food that that is unsafe .
Major chains such as Spinneys, Hawa Chicken, Roadster Diner, Fahed Supermarket, Abdel Rahman Hallab, Kababji, McDonald's, Metro Supermarket, TSC Mega and Bedo were among those found to be warehousing items in violation of basic food safety standards , Abu Faour said.
"I regret saying that the Lebanese don't know what they're eating, and if they did it would be a great disaster," Abu Faour said at a news conference held at his ministry.
"I can say with a clear conscience , with corroboration from science, that Lebanese [food] is contaminated with bacteria."
"The violations entail that certain bacteria could have negative health implications for Lebanese," Abu Faour said, adding that some products tested positive for Salmonella and E. Coli.
Salmonella is not usually related to food storage and handling since this bacteria is naturally present in meat products and specially poultry but E-coli is directly related to food handling and specially hygiene.
Abu Faour issued an additional list of food establishments including supermarkets, bakeries and restaurants found to be in violation of food safety standards.
He revealed that one fast food chain was tampering with production and expiration dates of food products
He also revealed that An-Natour Butcher Shop was selling expired Brazilian meat and for this reason it was shut down.
The investigation covered 1,005 establishments across Lebanon and was carried out by the Health Ministry's food safety inspectors.
Inspectors were tasked to examine food establishments and evaluate them for cleanliness, compliance with food safety standards and the personal hygiene of employees, and to ensure legal certification was in order.
They also took samples of products being sold to the public for analysis.
Abu Faour said that 3,600 of the samples were sent to the laboratories of the Agriculture Ministry.
"The samples were taken from various kinds of food including red meat, chicken, chicken derivatives, frozen fish, bread and desserts, as well as dairy products," he added.
Abu Faour stressed that the aim of the inspection was neither to undermine the institutions found to be in violation nor affect their revenues. He said the campaign was crucial to secure the safety and health of Lebanese consumers.
Places found to be in violation of safety codes would be given a warning and some establishments would be shut down until they meet the Lebanese standards.
Verbal attacks
Abu Faour slammed on Thursday the ministers and officials who criticized his ministry's food safety battle as Tourism Minister Michel Pharaon said that the Health Ministry should be held accountable like the rest of the food safety violators.
"We expected a vengeful reaction over the food scandal," Abu Faour said
He lashed out at Pharaon and Economy Minister Alain Hakim, saying that he "didn't expect skeptical statements by some ministers."
"I regret the number of tourists who left Lebanon over the spoiled food scandal," Abu Faour said sarcastically in a reply to a statement by Pharaon.
Hakim had criticized on Wednesday the Health Minister's technique, stressing his ministry is "investigating violations and consumer protection cases", while Pharaon accused Abu Faour of damaging tourism in the country.
Abu Faour also lashed out at the head of the Association of Restaurant Owners Tony Rami, who said on Wednesday that that the "food scandal" shouldn't affect the whole sector since only a small number of establishments is affected .
"The Lebanese are entitled to know what they are eating and drinking," the health minister said, refusing to cover up for the owners of violating institutions.
He warned that he will continue with his campaign till the problems are fixed
"We will continue to announce the violating institutions until they fix the violations," Abu Faour said pointing out that health inspectors entered all areas including Beirut's southern suburbs of Dahiyeh and the eastern city of Baalbek, a possible reference to Hezbollah's strongholds .
Here is a list of the establishments in various parts of the country

JBEIL
Hawa Chicken
Taouk
Spinneys
Meat
Jbeil Supermarket
Meat
NABATIEH
Rimal restaurant
Hamburger
KESROUAN
Fahed Supermarket
Minced meat, kafta, hamburger and shawarma
TRIPOLI
Crepina restaurant
Chicken and mayo
Dar al-Qamar restaurant
Meat
Chai w Asal restaurant
Hamburger
Baytna restaurant
Meat
Abdel Rahman Hallab restaurant
Ashta
Makiye
Ashta
ALEY
Hawa Chicken restaurant
Chicken and taouk
MP Supermarket
Minced meat
BAABDA
Metro Supermarket
Rotisserie chicken
Poule d'or
Rotisserie chicken
Al-Amiliyya airport road
Whole rotisserie chicken
CHOUF
Rashid Moussa shops
Sujuk
Ghanem institution
Hamburger
Al-Rayan institution
Shish taouk
Abou Khalil Damour
Sujuk
METN
Bido
Sausage
Kababji Jal el-Dib
Minced meat
Roadster Diner
Chicken
Zomrab butchery
Soujuk and sausage
Tannouri market Baabdat
Minced meat
Al-Ashqar Antelias
Soujuk and sausage
Masoud market
Minced meat
McDonalds
Chicken nuggets
Mnih farms
Labneh
Al-Khawly market
Sausage and beef pieces
Al-Sultan butchery
Chicken and minced meat
Metro
Whole rotisserie chicken
Nassar Supermarket
Meat
Marché du Rond Point
Meat
TSC Mega
Veal, hamburger, minced meat and taouk
Mazloum
Taouk and minced meat
Broumana market
Taouk and soujuk