Russian troops crossed Ukraine border, Nato says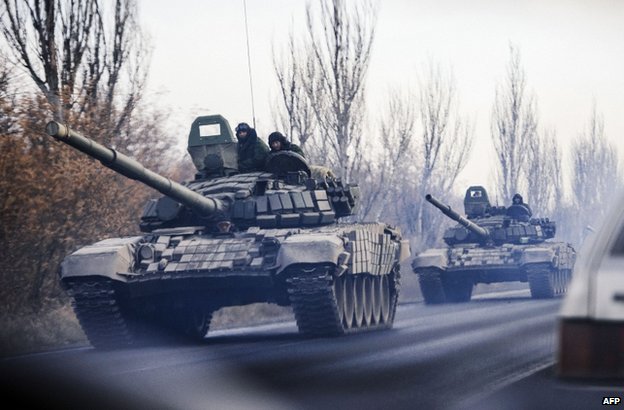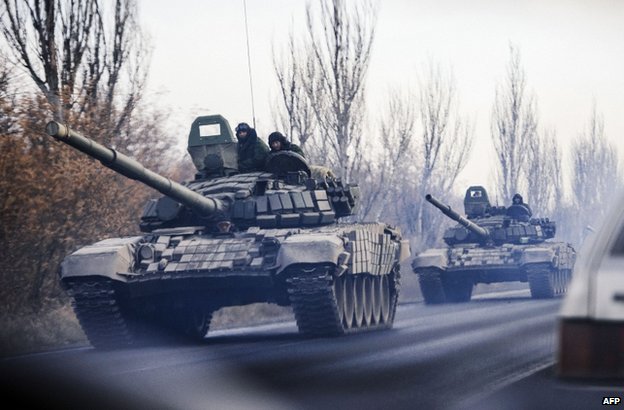 Nato has seen columns of Russian military equipment and Russian combat troops entering Ukraine this week, its top commander said.
"Russian tanks, Russian artillery, Russian air defence systems and Russian combat troops" were sighted, US Gen Philip Breedlove said in Bulgaria.
Russia has consistently denied sending troops into eastern Ukraine to bolster pro-Russian separatist rebels there.
However, the rebels have admitted being helped by "volunteers" from Russia.
Heavy artillery fire rocked the east Ukrainian city of Donetsk, the industrial hub held by pro-Russian separatist rebels, on Wednesday morning.
It was unclear whether the fire came from besieging government forces or the rebels themselves, or both.
There were also reports of fighting near the rebel-held city of Luhansk. One Ukrainian soldier was killed and another injured north of Luhansk, when rebels fired on government positions near the village of Schastya, Ukrainian security forces said.
Unmarked convoys
The Organization for Security and Cooperation in Europe (OSCE) has reported seeing unmarked convoys in the region in recent days.
Asked about the purpose of the alleged Russian troop deployment, Gen Breedlove replied: "As to their intent, I'm not sure. My strategic team believes that there is a possibility that, as you know, this pocket of separatist Russian-backed forces and Russian forces in the east of Ukraine – it's not a very contiguous pocket. There are lines of communications that are interrupted. There are airports that are not held by the Russian-backed forces etc.
"And so it is our first guess that these forces will go in to make this a more contiguous, more whole and capable pocket of land in order to then hold on to it long term."
More than 4,000 people have died since government forces moved in April to put down an armed insurrection by the rebels in the two regions, which border Russia.
A fragile ceasefire was agreed in Minsk on 5 September, although hundreds of people have been killed since then.
German Chancellor Angela Merkel said on Tuesday her government was "not satisfied" with the progress in implementing the Minsk agreement, but added that there were no plans at present for further economic sanctions against Russia over its involvement in Ukraine.
"Further economic sanctions are not planned at the moment, we are focusing on the winter and the humanitarian situation there and how to get a real ceasefire," she said.
The OSCE said earlier that the conflict could get worse.
"The level of violence in eastern Ukraine and the risk of further escalation remain high and are rising," OSCE representative Michael Bociurkiw told reporters in Kiev.