Catalonia Calls for Talks on Independence From Spain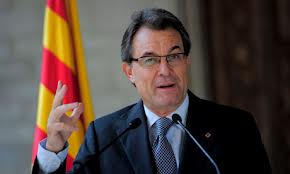 Catalonia's leader, buoyed by a well-attended albeit symbolic vote for independence, called on Tuesday for Spain to start negotiations on a formal referendum while denouncing what he called attempts at intimidation, including an alleged cyberattack.
The central government in Madrid responded by ruling out any talk of an independence referendum, leaving the wealthy region—Spain's leading exporter—at an impasse that is of increasing concern to investors.
At a news conference, Catalan leader Artur Mas said his priority after Sunday's vote would be to persuade Prime Minister Mariano Rajoy to agree to a referendum similar to ones held in Scotland and Quebec.
"The people in this country have earned the normal thing the hard way: a definitive referendum under normal circumstances and with full guarantees," Mr. Mas said.
Defying an injunction by Spain's constitutional court, 2.3 million people took part in the informal ballot, and just over 80% of them voted in favor of independence.
Central government officials have said that the approximately 36% voter turnout was lower than in any other recent Catalan election.
"Two out of three Catalans…have ignored you," Deputy Prime Minister Soraya Sáenz de Santamaría said in response to a pro-independence legislator during a parliamentary session Tuesday. She called the symbolic vote a failure.
"Legally, the right to self-determination that you want isn't possible, not in our Constitution, nor in any countries around us," she said.
Outside analysts generally viewed the vote as a success.
"Turnout can't be measured by normal elections," said Andrew Dowling, a specialist on Catalan and Spanish history at Cardiff University in Wales. "What is significant is 36% of the Catalan population ignored the fact that the poll was illegal, and many spent hours queuing to vote."
The national news service EFE reported Tuesday that prosecutors were preparing charges against Mr. Mas for having defied the court in going ahead with the vote.
The charges are "practically finished" and are "very solid," Alícia Sánchez-Camacho, the head of the Catalan branch of Mr. Rajoy's Popular Party, told a television network. She said charges would include disobeying a court order and misuse of government funds. "He crossed a red line," she said.
Mr. Mas was asked about reports of pending charges at his news conference and said he wasn't concerned.
"I attribute it to the confusion that exists in Madrid and the irritation of some, but I'm not afraid because we have a democratic mandate for what we do," he said. He added that it would be "very worrisome" if the Popular Party were "serving as spokesman for the prosecutor's office."
Mr. Mas said the symbolic vote ran "like clockwork," and emphasized the obstacles it faced. He said the central government's move to obtain an injunction against the vote and a public prosecutor's subsequent investigation of polling places amounted to intimidation.
Mr. Mas also said that the Catalan government website was subjected to a cyberattack over the weekend, peaking Sunday with a surge of 60,000 times the normal number of access requests.
He said the attack was so severe it affected not only the election, but also endangered access to emergency medical services and other necessities. The sophistication, he said, was such that "it couldn't have been amateur hackers or tweeters." He said the Catalan government was trying to find out who was responsible.
The Catalan leader said that if he fails to reach an agreement with Mr. Rajoy over a referendum, he could call early regional parliamentary elections that might serve as a plebiscite on independence. But he said that wasn't his preferred route.
Mr. Mas's Convergence and Union coalition has lost support in the polls, hurt by corruption scandals and Mr. Mas's economic austerity policies. The coalition has held talks with the Republican Left of Catalonia, a pro-independence party that is leading in many polls, about running on a single pro-secession ticket. But their relations soured after Mr. Mas scrapped a more formal referendum for the symbolic vote following an earlier court challenge.
The stalemate has left investors increasingly concerned about the stability of a region that accounts for 25% of Spain's exports. After long ignoring a movement that has simmered for the past five years, Wall Street investment houses have lately been churning out a flurry of analysis on Catalonia.
A report by Fitch Ratings on Monday said the most likely outcome was an eventual devolution of more fiscal authority to Catalonia, rather than a declaration of independence. But it added: "If there is no negotiated settlement over the next two years the political frictions between Spain and Catalonia are likely to continue or even escalate."
WSJ