Security tightened in Hezbollah stronghold on the eve of the Ashura day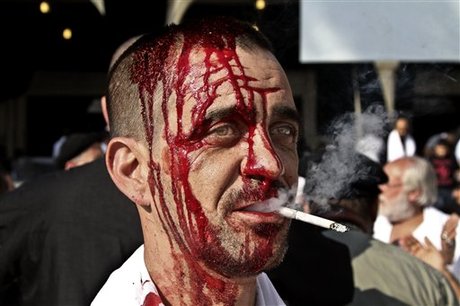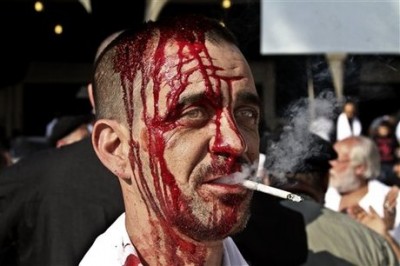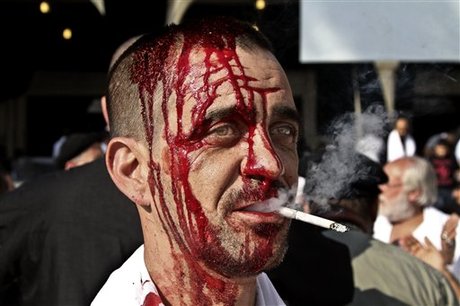 Every evening for more than a week around nightfall, the Shiite Muslim-dominated southern suburbs of Beirut have turned into a fortress.
Hezbollah, Lebanon's powerful Shiite political and military movement, has taken no chances during this year's Ashoura, a 10-day-long event commemorating the death of the Prophet Mohammad's grandson Imam Hussein in a battle 1,300 years ago.
As the sun sets, armed men with bomb-sniffing dogs have fanned out in the streets and set up checkpoints. Get caught in the traffic and it may take you hours to get out.
The caution is understandable: Hezbollah is at war, having sent fighters across the border into Syria to help President Bashar al-Assad against mostly Sunni Muslim rebel opponents in a more than three- year-old conflict. Hezbollah strongholds in Lebanon have already been hit by reprisal attacks.
This year may be the most tense the southern suburbs have seen. Syria-linked car bombs, gun battles, rocket attacks and kidnappings are nothing new. But, in a new twist, Sunni militants have waged two major battles against the Lebanese army in recent months.
That has alarmed many Lebanese, who fear that worsening sectarian friction could threaten the peace that has largely held between the country's Sunnis, Shiites, Christians and other communities since its own 1975-90 Civil War.
"This year you can say things are a bit more dangerous. The security situation isn't great," Zahra Fakih, 18, said while standing by a busy road in the southern suburbs.
"I'm hearing a lot of people say they don't want to go out. People are frightened."
Sectarian tensions have paralyzed Lebanese politics. The country has been without a president since May, with politicians unable to agree on a new one that would satisfy both sides.
Sunni leaders accuse Hezbollah of dragging the country into Syria's war and marginalizing Sunnis at home. Their Shiite counterparts accuse them of turning a blind eye to Sunni militants in Lebanon and of stirring up sectarian hatred.
Neither side expects it to get better soon.
'The party has it under control'

Despite the heightened alert, however, the streets running among the concrete highrises of the southern suburbs – largely rebuilt since Israeli warplanes leveled many during a 2006 war – have remained lively with cars and shoppers the past few days.
The smell of car exhaust, sweet shisha water pipe smoke and grilled meat hangs in the air and the blasts of car horns drown out conversations. Men and women dressed in black crowd restaurants and queue at street kitchens to receive free food.
The streets are full of images of political and religious leaders and pictures of young men killed in conflicts with Israel and in Syria. Black banners read "Labaik ya Hussein," or, roughly, "We are here for you, Hussein."
In addition to the nightly checkpoints that choke traffic in the area, Lebanon's police said on Monday they would close all entrances to the southern suburbs after midnight, ahead of Ashoura's climax. Entrances to the area have already been nearly impossible to pass through after dark.
Many people in the area welcomed the increased security during a recent visit by Reuters, saying they were confident that Hezbollah, whose name in Arabic means "Party of God," would not let anything happen.
"We've been staying out here until four in the morning, and there's been nothing that should scare us," said Nimr Ghanem, 29, gesturing to the busy streets and to a cart where he was selling flags, CDs of religious chanting, banners and temporary tattoos that spelled Hussein's name in red.
"No one is afraid here. The party has it under control."
Al Arabiya