Chicken****- Gate: Kerry apologizes to Netanyahu over slur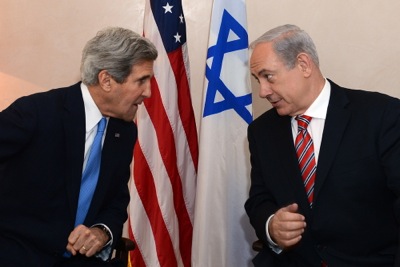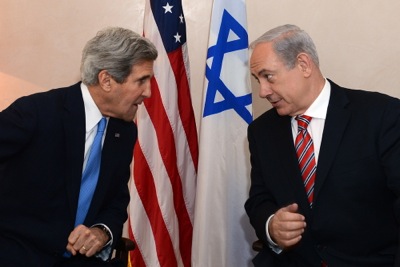 US Secretary of State John Kerry on Friday phoned Prime Minister Benjamin Netanyahu, and apologized to him in the name of the Obama administration for the comments made by an anonymous US official who called the prime minister "a chickenshit," Time of Israel reported on Friday
On Thursday, Kerry had publicly distanced himself from the comments, stressing that neither he nor US President Barack Obama were behind the remarks, which he said were "disgraceful, unacceptable, and damaging."
American officials were quoted Friday night as saying that the Kerry-Netanyahu phone call was a "good conversation" and that they discussed ways to improve relations between the US and Israeli leaderships. The two were also said to have discussed other regional issues, including efforts to thwart Iran's nuclear ambitions. (Kerry said later Friday that the gaps between the P5+1 and Iran had narrowed ahead of a November 24 deadline on a deal. "We're closer than we were a week ago or 10 weeks ago," Kerry said in an interview Friday, "but we're still with big gaps.") the report l added
Israeli politicians spent most of Wednesday responding with outrage and concern to an article in The Atlantic quoting a senior American official calling Prime Minister Benjamin Netanyahu a "coward" — and also using a more colorful but vulgar synonym that starts with "chicken." Mr. Netanyahu and his allies denounced such a personal attack as inappropriate, while his critics declared it evidence of the dangerous deterioration of the state's most treasured alliance that Mr. Netanyahu has caused.
The sour relationship between Netanyahu and Obama is no secret, and nothing new; the two have been disagreeing, sometimes politely and at other times far less so, since they both took office in 2009. In the Atlantic article, headlined "The Crisis in U.S.-Israel Relations Is Officially Here," Jeffrey Goldberg wrote that the relationship between the two administrations is "now the worst it's ever been," an assessment shared by other analysts.
This week came the latest of what seems like umpteen rounds of Washington condemnation of Israeli announcements regarding construction of settlements in territories seized during the 1967 war. When Israel's defense minister visited Washington this month, he was denied meetings with Secretary of State John Kerry and Vice President Joseph R. Biden Jr. (the snubbing was chalked up to the minister's having been quoted — anonymously, of course — calling Mr. Kerry "messianic" in his pursuit of an Israeli-Palestinian peace deal).