Virgin Galactic's SpaceShipTwo shattered!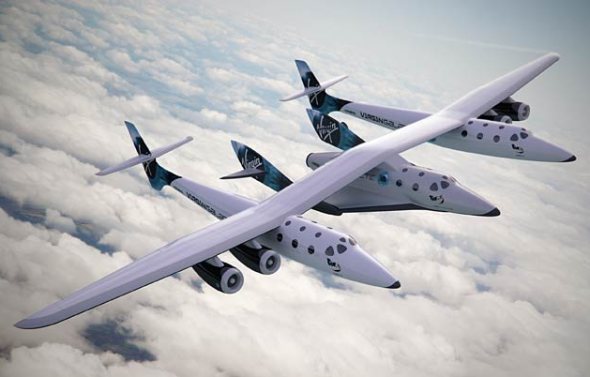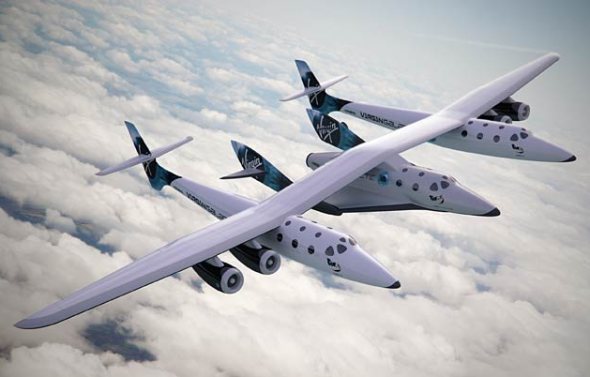 When Virgin Galactic's SpaceShipTwo rocket plane broke up high above California's Mojave Desert on Friday, it led to the first in-flight fatality associated with a commercial space effort. Here's what we know so far about the explosion and crash, which killed one test pilot and injured another:
What happened?

For four and a half years, Virgin Galactic has been putting SpaceShipTwo through a series of flight tests, with the aim of eventually using it to fly people to the edge of space, 100 kilometers (62 miles) up. Friday's test was the first rocket-powered flight test since January, and the first aerial test of a new kind of plastic-based fuel that engineers thought would improve the hybrid rocket motor's performance.
The 27-foot-wide plane was slung beneath a 141-foot-wide, twin-fuselage carrier airplane called WhiteKnightTwo, and the paired planes took off from California's Mojave Air and Space Port at about 9:20 a.m. PT (12:20 p.m. ET). Each of the planes had two test pilots aboard. About 50 minutes later, WhiteKnightTwo released SpaceShipTwo for free flight from an altitude of about 50,000 feet. The rocket engine lit up and powered SpaceShipTwo skyward. Then something went wrong.
Some observers reported seeing an anomalous flare-up or explosion. Pieces of debris fell onto the desert, but parachutes were also sighted. When witnesses reached the crash site, they found one of the pilots dead. He was identified by authorities Saturday as 39-year-old Michael Alsbury.
"It was not pretty," said photographer Ken Brown, who was on the scene. The other pilot parachuted to the ground with injuries, and was taken to a hospital in nearby Lancaster.
What caused the anomaly?

For now, the rocket motor is the prime suspect.
The motor's fuel and plumbing went through significant alterations since the previous rocket-powered flight in January. However, Kevin Mickey — the president of Scaled Composites, the Mojave-based company that has been developing and testing SpaceShipTwo for Virgin Galactic — pointed out that the new propulsion system went through extensive on-the-ground testing in advance of Friday's flight.
Another concern has to do with the nitrous oxide that interacts with the fuel to generate the rocket power. Nitrous oxide, also known as "laughing gas," is usually considered nontoxic. But three workers at Scaled Composites were killed on the ground in 2007 when a tank of nitrous oxide exploded.
In the wake of that 2007 blast, some critics voiced concerns about the hybrid rocket motor that was being being developed for SpaceShipTwo — and said Virgin Galactic should have gone with a more traditional liquid-fueled rocket engine instead. That debate is now likely to get more attention.
Who's responsible for oversight?


The Federal Aviation Administration's Office of Commercial Space Transportation issues permits and licenses for commercial human spaceflight. Scaled Composites and Virgin Galactic have been operating under an experimental launch permit, which lets them test the plane but doesn't let them fly paying customers.
Virgin Galactic had been planning to get SpaceShipTwo certified for commercial operations sometime in the next few months. Under legislation that will remain in force for at least a year longer, the FAA's regulatory authority is limited to protecting the general public and ensuring that passengers are adequately informed about the risks of spaceflight before they get on board. That "fly at your own risk" arrangement for suborbital spaceflight will have to be reapproved or modified in the months to come.
As for the investigation into Friday's failure, the National Transportation Safety Board has the lead role with assistance from the FAA and state and local agencies. It is the first time the NTSB has been the head agency in a space launch vehicle investigation, acting chairman Christopher Hart said Saturday as the probe began.
What does this mean for private spaceflight?

More than 700 customers have paid as much as $250,000 to take a ride on SpaceShipTwo, but Virgin Galactic says that money is refundable if the reservation is canceled. It remains to be seen how many will ask for refunds because of Friday's crash. Virgin Galactic's manufacturing subsidiary, The Spaceship Company, is building a second SpaceShipTwo plane in Mojave — and the fleet had been projected to grow to five rocket planes and two carrier airplanes.
Another company, XCOR Aerospace, is building a different type of rocket plane called the Lynx, which is designed to take a pilot and one passenger on suborbital space trips. XCOR is aiming to begin commercial service sometime in the next year or two, with a ticket price in the neighborhood of $100,000.
Both Virgin Galactic and XCOR are courting space tourists as well as researchers who want to fly payloads on relatively low-cost space missions. Other companies — such as Blue Origin, Boeing and Space Adventures — also are working on commercial spaceflight opportunities. Virgin Galactic was seen as the front-runner for suborbital space tourism, but that status is likely to change in the wake of Friday's incident.
What's next?

Over the weekend, the NTSB will be ramping up its investigation. Hart said the NTSB would "have lots of evidence" to work with because "test flights are typically very well-documented."
Virgin Galactic's billionaire founder, Richard Branson, is also due to arrive on the scene. In a blog entry that was posted en route to California, Branson said the trek was "one of the most difficult trips I have ever had to make." But he said he wanted to be "with the dedicated and hard-working people who are now in shock at this devastating loss."
Scaled Composites' Kevin Mickey said both pilots worked for his company rather than for Virgin Galactic.
The investigation is expected to take several days, but the repercussions of SpaceShipTwo's loss are likely to go on for months or years longer. Will the tragedy force Virgin Galactic to redesign SpaceShipTwo 2.0? What will happen to New Mexico's Spaceport America, which was counting on Virgin Galactic to start commercial operations there next year? There are many questions ahead, but few clear answers.
NBCUniversal established a multi-platform partnership with Virgin Galactic to track the development of SpaceShipTwo.
CNBC