Fatfat: We don't trust Hezbollah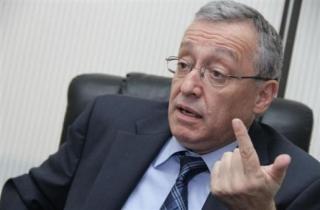 MP Ahmad Fatfat , a key member of the Future Movement said on Sunday that former Lebanese PM and his party leader Saad Hariri will not return to Lebanon until all "illegitimate" arms are handed over to the state, stressing that the Future Movement does not trust Hezbollah whom he he accused of using its military might to control Lebanon.
"The threat against Saad Hariri will remain as long as there are illegitimate weapons in Lebanon," Fatfat told Voice of Lebanon radio station 100.5 in an interview.
Hariri has been living in self-imposed exile in France and Saudi Arabia since 2011 over security concerns. He returned to Lebanon only once an for a very brief visit last August.
Fatfat slammed Hezbollah for exploiting its resistance status to achieve internal political goals and bolster the Syrian army in its fights against rebels.
"We do not trust Hezbollah because it used the resistance slogan to take over the country" Fatfat said.
He also blamed the Syrian refugee crisis in Lebanon on Hezbollah's intervention.
5 Hezbollah members have been accused of killing Hariri's father , former PM Rafik Hariri . They are all being tried by the special Tribunal for Lebanon in Netherlands