ISIS fight: US urges patience…'we are at the start of along fight'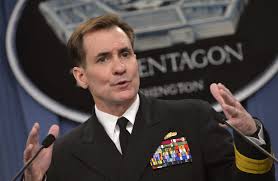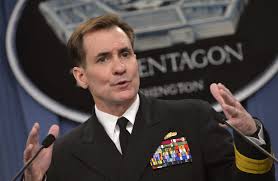 The Pentagon on Tuesday criticized some media coverage for lacking patience at the start of a long fight against the Islamic State, cautioning that progress would take time and saying "we cannot bomb them into obscurity" in Syria and Iraq.
Rear Admiral John Kirby, a Pentagon spokesman, declined to specify which coverage was, in his words, "a little shrill and hyperbolic and not exactly in balance."
But Kirby said that the 310 air strikes so far against the Islamic State in Iraq and Syria were only the beginning of a long campaign that would require more than just military might.
"What you heard was a little bit of my own frustration in some of the media coverage, and the expectation is that well, you've … dropped more than 300 bombs … but they're still grabbing ground," Kirby told a Pentagon news briefing.
"We are steeling ourselves here in the Pentagon for a long effort and I think it's important for people to understand that."
The comments came a week after the start of air strikes in Syria and nearly two months after the start of strikes in Iraq against Islamic State targets and were the latest effort by the Pentagon to play down expectations of any quick resolution.
The U.S. military has cautioned that progress in Iraq will take time, given the sectarian divide and nature of the ground campaign by Iraqi and Kurdish forces. Syria is vastly more complex, not least because it will take at least three months to recruit and screen Syrian opposition fighters for training.
The United States has said it could train more than 5,000 fighters in Saudi Arabia in the first year of the program but the Pentagon has warned that three times that number might be needed to retake territory lost to the Islamic State in eastern Syria.
Kirby attributed some the tone he saw in media reports to the "immediate nature of the information environment today."
"But there's also this expectation of omnipotence by the United States military," Kirby said.
"This is a complicated, difficult, cultural, religious, geographic struggle that we're facing here in Iraq and Syria, and it's not going to be solved overnight, and it's not going to be solved through bombs, and it's not going to be solved through anything other than a lot of hard work and time and effort."
Reuters