Al-Nusra denounced US-led air strikes as "a war against Islam".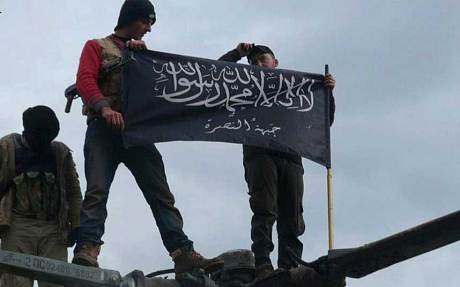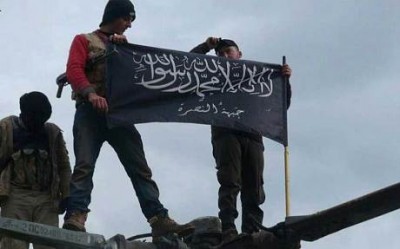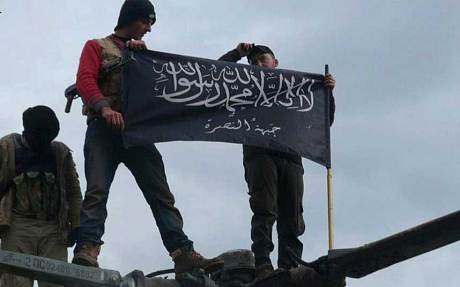 Syrian militant group al-Nusra Front has denounced US-led air strikes as "a war against Islam".
In an online statement, the al-Qaeda-linked group called on jihadists around the world to target Western and Arab countries involved.
It comes as the US and other nations widened air strikes against Islamic State (IS) fighters in Iraq and Syria.
A Syrian activist group said overnight strikes hit three local oilfields near the Syrian IS stronghold of Raqqa.
The group, the London-based Syrian Observatory for Human Rights, also said one civilian was killed in a strike on a plastics factory on the outskirts of Raqqa.
Previously, the Pentagon confirmed that jets hit Raqqa on Saturday as well as IS positions near the Turkish border.
Kurdish fighters have been defending the Kurdish town of Kobane on the Syrian side of the border since an IS advance sent about 140,000 civilians fleeing to Turkey.
The US-led coalition of about 40 countries, including Arab states, has vowed to destroy IS, which controls large parts of north-eastern Syria and northern Iraq.
The group's brutal tactics, including mass killings, beheadings, and abductions of members of religious and ethnic minorities, triggered the international intervention.
Despite sharing radical Islamist beliefs, IS and al-Nusra Front have been rivals, recently clashing with each other in Syria.
"These states have committed a horrible act that is going to put them on the list of jihadist targets throughout the world," he said.
"This is not a war against al-Nusra, but a war against Islam."
Both IS and al-Nusra form part of the complex network of rebel forces fighting in Syria. The US has not said al-Nusra is also being targeted but its planes have attacked a new group it terms Khorasan, which some analysts suspect is part of al-Nusra Front.
IS has also called on jihadists to launch attacks on coalition countries.
On Saturday, a spokesman for the moderate opposition Free Syrian Army said it supported air strikes against IS but opposed any action that caused civilian casualties.
Hussam al-Marie told the BBC that Western countries should also carry out strikes against the government in Damascus.
"(The) so-called Islamic State is our enemy as much as (President) Assad's regime is our enemy," he said.
"We want Syria free from dictatorship and from terrorism. We need the support of the free world to continue this battle against the regime and Isis (IS). We are fighting on two fronts."
Meanwhile on the ground, IS shelled Kobane on Saturday and several people were killed, the BBC's Paul Wood reports from the scene.
The US Central Command announced that an IS-occupied building and two armed vehicles were destroyed near the Kobane border crossing.
Several thousand Kurdish refugees, along with their sheep and cattle, are camped out at the railway line which marks the border with Turkey.
Other strikes hit IS targets elsewhere in Syria and in northern Iraq on Saturday.
On Friday the UK became the latest nation to join the air campaign against IS after MPs voted in favour of strikes in Iraq, but not in Syria.
Two of six RAF Tornados based in Cyprus carried out their first combat mission on Saturday but returned without carrying out any strikes.
On Saturday evening, local time, two RAF planes took part in a further flight and later returned safely.
French fighter jets are already taking part in strikes in Iraq with Belgium and the Netherlands each pledging six F-16s planes and Denmark deploying seven.
European countries have so far only agreed to strike targets in Iraq where the government has asked for help.
BBC