Russia's FM defends Assad, urges US to join him in fighting terrorism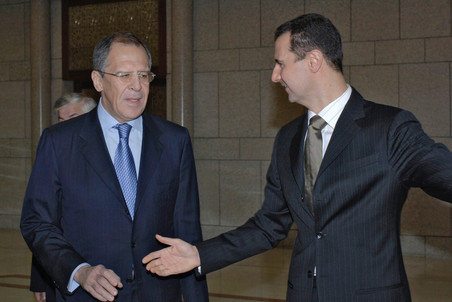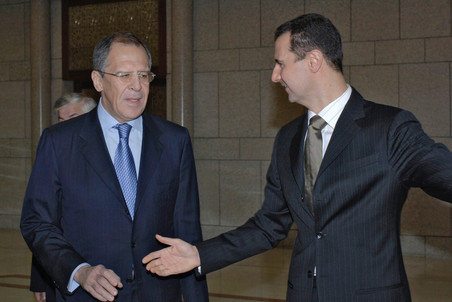 Russian Foreign Minister Sergei Lavrov called on the U.S. to put aside ideology and join forces with Syrian President Bashar al-Assad to fight Islamic State, saying the world now knows which represents the bigger threat.
"We have to engage Syria and we have to engage the Syrian government, including on the fight against terrorism," Lavrov said yesterday in an interview with Bloomberg Television in New York. "I'm glad that eventually the understanding that terrorism is a much bigger threat than the continued presidency of Assad, this understanding is now accepted basically."
Russia, a Soviet-era ally of Syria, brokered a deal with the U.S. on disarming Syria's chemical arsenal last year, averting American military strikes against the country. After that experience, it's "not logical at all" for U.S. President Barack Obama's administration to refuse to cooperate now with Syria, Lavrov said.
The U.S. this week expanded its bombing of Islamic State targets to Syria, backed by the broadest Arab-U.S. military coalition since the 1991 Gulf War, after opening the air campaign last month in Iraq. The Pentagon said it continued to attack militants along with partner nations yesterday and on Sept. 26, with a total of seven airstrikes in Syria. The U.S. also conducted three strikes in Iraq.
The Sunni extremist group also known as ISIS and ISIL, which has circulated videos of the beheading of two U.S. journalists and a British aid worker, has seized swaths of territory in both countries this year.
Iran Role
While the U.S. informed Syria before the first strikes this week, it says it won't collaborate with Assad's government. As part of the deal that brought Sunni nations into the anti-Islamic State coalition, Obama agreed to increase U.S. efforts to train and equip Syrian rebels as part of the American policy seeking Assad's removal.
U.S. Secretary of State John Kerry said Sept. 19 that Syrian ally Iran has a role to play in the international coalition to combat Islamic State, though the U.S. government insisted it won't coordinate with the Iranians or share intelligence.
"Iran of course should be part of the efforts to fight ISIL, because Iran is the strong opponent of this group," said Lavrov, who met his Iranian and Syrian counterparts in New York last week during the United Nations General Assembly. "To ignore Iran in this fight and not to invite it for cooperation is a mistake, just like it is a mistake not to consult with the Syrian government and not to cooperate with it."
Lavrov said on Sept. 26 that the U.S. should coordinate its airstrikes against Islamic State targets in Syria with the Syrian government to make them more effective.
Legitimacy Question
The failure by the U.S. and its allies to work with Assad on fighting Islamic State marks a lack of "pragmatism and common sense," he told reporters in New York at the United Nations.
Syria's Foreign Minister Walid al-Muallem said yesterday after meeting Lavrov that the U.S. attacks on Syrian soil lacked international legitimacy because UN Security Council approval wasn't sought for them.
"Anyway, if their aim is to strike against ISIS, it's OK. But we still have our doubts about their hidden agenda," Muallem said.
Russia, the U.S. and Syria held almost daily meetings in The Hague during the process to destroy the country's chemical stocks, "so I see no reason why the same approach couldn't be used for fighting terrorism on Syrian territory," Lavrov said in yesterday's interview.
Ukraine Dispute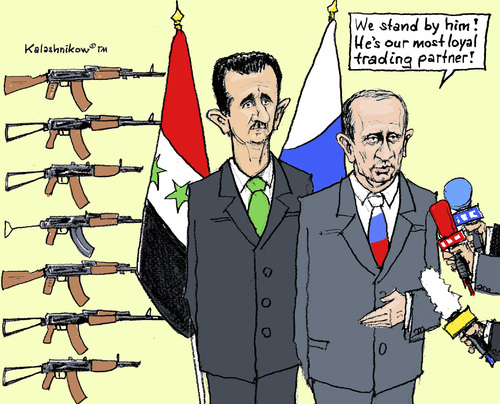 Russia, which is supplying weapons to Syria and Iraq, is ready to work with the U.S. on global threats such as Islamic terrorism, though the Obama administration needs to drop its freeze on cooperation in response to the Ukraine conflict, said Lavrov. "It's up to the U.S. to understand where its interest is," he said.
Lavrov said his country won't submit to U.S. demands to meet conditions in exchange for lifting sanctions imposed over the standoff on Russia's role in destabilizing Ukraine.
Russia's economy is "not in very good shape" after the U.S. and the Europe Union introduced punitive measures, the foreign minister said.
The sanctions were enacted in response to the annexation of Crimea from Ukraine and its alleged support for pro-Russian separatists in eastern Ukraine. The government in Moscow denies involvement in the conflict.
Still, Lavrov said his country won't back down even as it pursues efforts for a lasting settlement to the conflict in Ukraine, which has cost more than 3,500 lives.
"We're not going to do this," said Lavrov, whose country has opposed Ukraine's bid to join NATO. "We're not going to change our position. We believe it's an honest position."
Bloomberg