George Clooney ties the knot! Says 'I do' to Amal Alamuddin
The Oscar-winning actor, who swore off marriage after a 1993 divorce, married human rights lawyer Amal Alamuddin before a star-studded crowd Saturday on a private island in Venice.
People magazine confirmed the couple was married by Walter Veltoni, the former mayor of Rome.
The eternally-cool Clooney showed no wedding day jitters as he donned a tuxedo and boarded a water taxi at sunset prior to the evening ceremony.
He managed a smile and a wave to hundreds of fans lined along the Grand Canal for a glimpse of the groom.
A dozen boats carried the actor and his guests to the opulent Hotel Aman, where his beautiful bride-to-be spent the night after a ladies-only dinner on Friday night.
A bemused-looking Clooney rubbed his hands together before ducking inside a tent covering the hotel's pier — his last public moment as the world's most eligible bachelor.
Clooney earlier bid farewell to bachelorhood in style: He shared a morning cup of coffee with supermodel Cindy Crawford.
He also bantered with the paparazzi shadowing his every move before the nuptials.
"Is this really happening George?" one paparazzi shouted at Clooney.
"Yeah, right now," he yelled back after glancing at his wrist — where he wore no watch.
A small armada of photographer-filled boats floated nearby in hopes of snapping the happy couple or their celebrity guests.
They caught U2 singer Bono and his wife, Ali Hewson, boarding a taxi boat to the service. Other A-listers in town for the wedding were Matt Damon, Bill Murray, Ellen Barkin, Anna Wintour and Richard Kind.
Angelina Jolie and Brad Pitt were among the others expected to arrive before the ceremony, along with fellow celebrity couple John Krasinski and Emily Blunt.
Privacy was among the major concerns at the five-star Cipriani hotel, where Clooney and Crawford met Saturday morning. The luxury hotel sits on a private island in Venice's lagoon.
Hotel staff formed a human wall around Clooney, 53, prior to his wedding to Alamuddin, 36. The couple became engaged just five months ago.
The ceremony and celebration were reportedly set for the opulent Hotel Aman, where a tent was erected on its private arrival pier to guard the guests from unwanted photos.
The hotel's 24 rooms were booked months in advance for the gala event at the converted 16th century palazzo.
The betrothed couple went out separately on the wedding's eve, with British-Lebanese beauty Alamuddin and friends heading out, according to E! News.
Clooney was spied raising a glass with Damon, Crawford's husband Randy Gerber and several other pals aboard a boat before they headed for a sedate last hurrah at the posh Da Ivo restaurant.
Clooney's long list of rumored past loves included actresses Kelly Preston, Charlize Theron, Lucy Liu and Renee Zellwegger — and ex-pro wrestler Stacy Keibler.
The Hollywood star was also married once, but he and actress Talia Balsam were divorced four years later.
Clooney had famously said he would never remarry sworn off marriage after the failure of his first attempt.
About the new Mrs Cloony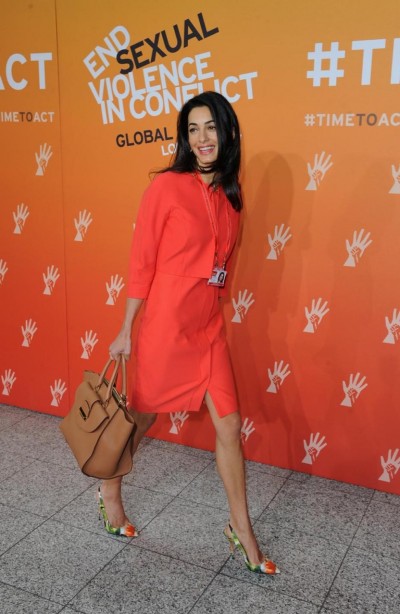 Before her life begins as Mrs Clooney, endlessly photographed by paparazzi and discussed in the tabloids for the designer clothes she wears, Alamuddin was better known as a legal eagle. Or as Clooney calls her "the hottest human rights lawyer in the world".
Amal Ramzi Alamuddin is a 36-year-old British-Lebanese lawyer specializing in international law, criminal law, human rights and extradition. She is a barrister at Doughty Street Chambers in London and is fluent in Arabic, English, as well as French.
She was born in Beirut, Lebanon in 1978. During the 1980s, when the Lebanese Civil War was at its height, Alamuddin's family left for London and settled in London's Gerrards Cross.
Her mother, Baria, is the foreign editor of the Pan-Arab newspaper al-Hayat. Her father, Ramzi, is a retired professor of business studies at the American University of Beirut. He returned to Lebanon in 1991 and is from a prominent Lebanese Druze family.
Alamuddin attended Dr Challoner's High School in Little Chalfont, Buckinghamshire. She then went on to study at St Hugh's College, Oxford where she graduated with a Bachelor of Arts in Jurisprudence (Oxford's equivalent to the LLB) in 2000.
In 2001, she enrolled at New York University Law School to study for the Master of Laws degree. Following her studies at NYU, she practiced at Sullivan & Cromwell in New York City for three years. In 2004, she worked at the International Court of Justice and was one of two NYU-sponsored clerks at the Court.
Before becoming a barrister at Doughty Street Chambers in London, she worked in the Office of the Prosecutor at the UN Special Tribunal for Lebanon and at the International Criminal Tribunal for the former Yugoslavia.
High-profile clients
She has been involved in cases representing the state of Cambodia and also Colonel Gaddafi's former Libyan intelligence chief Abdallah Al Senussi. Professor William Schabas, who worked with Alamuddin on the case told the Evening Standard: "She is very attentive to complex situations, and remains on top of a huge amount of material. She is a scholar as well as a barrister."
Alamuddin also represented the former prime minister of Ukraine Yulia Tymoshenko and WikiLeaks founder Julian Assange. She is also an adviser to the King of Bahrain in connection with the Bahrain Independent Commission of Inquiry.
In August 2014, Alamuddin was selected for the UN's three-member commission to look into possible violations of the rules of war in Gaza during the Israel-Gaza conflict. She ruled herself out of accepting the role, citing pressures of work. She stated: "There are various reports published today stating that I have been appointed as one of three members of the UN Commission of Inquiry for Gaza.
"I am horrified by the situation in the occupied Gaza Strip, particularly the civilian casualties that have been caused, and strongly believe that there should be an independent investigation and accountability for crimes that have been committed.
"I am honored to have received the offer, but given existing commitments – including eight ongoing cases – unfortunately could not accept this role."
Whether Alamuddin can continue in her job as a barrister remains to be seen, but if she does, the court cases will be much better attended – by paparazzi and tabloid journalists who will be giving in-depth reports of what couture dresses, designer handbags and shoes that Mrs Clooney is favoring this season.
NY Times/IB Times