Security stepped up at Vatican over fears of ISIL terror attack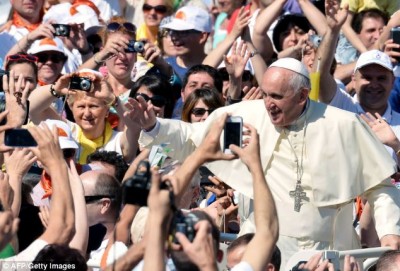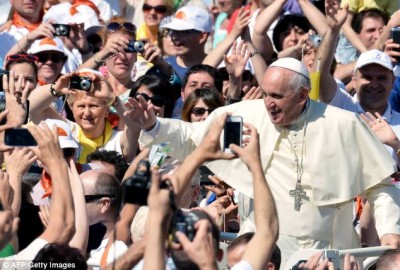 popeSecurity in the Vatican has been increased after intelligence agencies reportedly intercepted an unspecified threat against Pope Francis, on the eve of his visit to Muslim-majority Albania.
The number of uniformed and plain clothes police patrolling St Peter's Square during the Pope's weekly audiences on Sunday and Wednesday has been increased, sniffer dogs are being used and extra metal detector machines have bern installed, the Italian media reported on Saturday.
The measures were adopted after a foreign intelligence agency, possibly American, intercepted a conversation between two unidentified Arabs in which they reportedly discussed 'doing something in the Vatican'.
The Vatican downplayed the threat, with Federico Lombardi, its main spokesman, saying that it had not received indications of a 'particular threat or cause for concern.'
Iraq's ambassador to the Holy See warned this week that Isil saw the Pope as a legitimate target and might try to assassinate him during his trip to Albania, because of his outspoken concern for the plight of Christians in Iraq and Syria and his conditional support of US bombing raids against Isil forces.
Jihadists from Isil have in recent weeks boasted of wanting to extend their caliphate to Rome, the heart of Western Christendom, and have talked of planting the jihadist black flag on top of St Peter's Basilica.
Habeeb Al Sadr, Iraq's ambassador to the Vatican, said there were also indications of a more specific threat against Pope Francis, who recently spoke out in favour of the US and its allies halting the advance of Isil in Syria and Iraq.
"What has been declared by the self-declared Islamic State is clear – they want to kill the Pope. The threats against the Pope are credible," the ambassador told La Nazione, an Italian daily, on Tuesday.
"I believe they could try to kill him during one of his overseas trips or even in Rome. There are members of Isil who are not Arabs but Canadian, American, French, British, also Italians.
"Isil could engage any of these to commit a terrorist attack in Europe."
During the Pope's trip to Tirana, the Albanian capital, on Sunday, he will celebrate Mass in the city's main square and drive around in his open-topped Popemobile, as usual, Father Lombardi said.
The Pope wanted there to be "no obstacles" between him and the ordinary people he will encounter.
No extra security measures would be taken for the Albania trip, despite previous warnings that Albanian jihadists who had returned home from fighting in Syria or Iraq might be planning an attack.
Vatican security officials are "calm" ahead of the one-day visit, the Rev Lombardi said.
The trip to Albania is intended to celebrate the rebirth of Christianity after religious belief was crushed under the Communist rule of Enver Hoxha, and to demonstrate how Catholics, Orthodox and Muslims live in harmony in the country of three million people.
Hoxha, a hardline dictator, declared Albania the world's first atheist state in 1967 and allowed the persecution of Catholics.
The Pope's trip to Turkey, which will include events in Ankara and Istanbul, is expected to take place on Nov 29 and 30.
The Telegraph