Iran has role in defeating Islamic State, says Kerry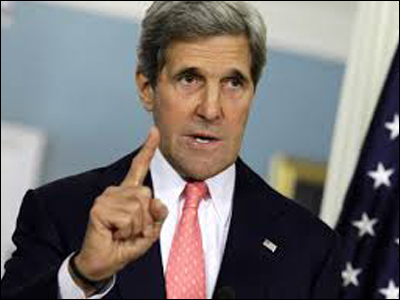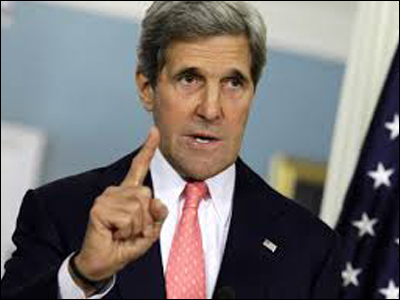 kerry
U.S. Secretary of State John Kerry said Iran has a role to play in an international coalition to take on Islamic State extremists.
"The coalition required to eliminate ISIL is not only, or even primarily, military in nature," Kerry said yesterday at a United Nations Security Council meeting on Iraq, referring to the group by an acronym for its former name. "It must be comprehensive and include close collaboration across multiple lines of effort."
"There is a role for nearly every country in the world to play, including Iran," he said.
Kerry's statement marks a shift in tone on the U.S. position toward involvement by Iran, a Shiite-majority state, in a coordinated campaign against the radical Sunni insurgency. The U.S. had excluded Iran from a multinational Sept. 15 conference in Paris on countering the threat posed by Islamic State, which has seized a swath of Iraq and Syria.
Marie Harf, a State Department spokeswoman, said on Sept. 16 that "we're open to talking to the Iranians about what's happening in Iraq, but not coordinating with them, not sharing intelligence with them."
Iran hasn't negotiated with the U.S. over Islamic State, Iranian Deputy Foreign Minister Abbas Araghchi told reporters in New York after addressing the Security Council. Araghchi called for consistency in dealing with the group's hold across a swath of Iraq and Syria.
Opposite Sides

"We believe that any real and genuine initiatives to remedy regional predicaments needs to originate from within the region and be based on regional cooperation," he told the Security Council.
While both Iran and the U.S. back the Iraqi government, they are on opposite sides in Syria, with Iran supporting President Bashar al-Assad as the U.S. seeks his ouster.
The Russian ambassador to the UN, Vitaly Churkin, whose country also backs Assad, told the Security Council that any attacks inside Syria without Assad's approval would be "considered illegal" and undermine stability of the region.
President Barack Obama has said he "will not hesitate to take action" against Islamic State "in Syria as well as Iraq," and Defense Secretary Chuck Hagel said this week that the president has been given a plan for airstrikes into Syria.
Obama's Session

Kerry led yesterday's meeting in advance of speeches beginning next week by world leaders to the annual gathering of the UN General Assembly. Obama will lead a Security Council session on Sept. 24 intended to adopt a resolution requiring governments to craft regulations and laws to thwart the flow of foreign fighters to militant groups such as the Islamic State.
The Security Council yesterday adopted a statement expressing support for the new Iraqi government led by Prime Minister Haidar al-Abadi and President Fouad Masoum and described Islamic State's"large-scale offensive" as "a major threat to the region."
Iraqi Foreign Minister Ibrahim al-Jaafari thanked the international community for support provided so far and requested additional military, economic and financial assistance.
"This major threat should be removed not only from Iraq but from any other country," Jaafari said.
Top diplomats from France, Italy and Germany flew to New York for the day to join Kerry at yesterday's ministerial-level meeting. Eleven of the council's 15 member-states were represented by foreign ministers.
French Foreign Minister Laurent Fabius, whose government yesterday began air strikes against the Islamic State in Iraq — while ruling out such action in Syria — called it "our duty" to act for Iraq and against Islamic State.
Bloomberg