Abbott warns Australia faces its 'most serious' security challenge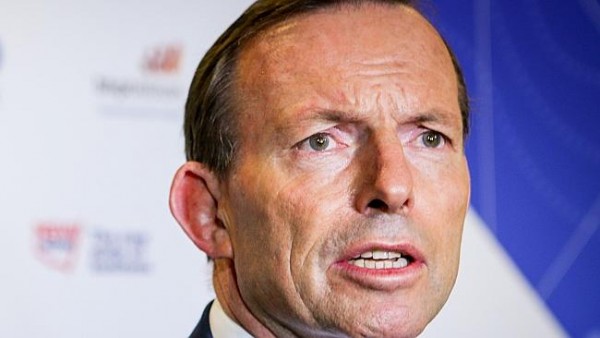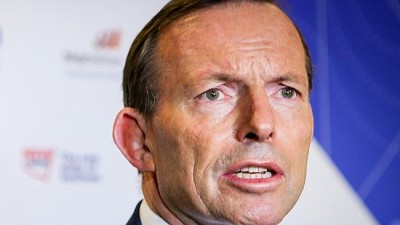 ARMED police officers will be permanently stationed inside Parliament House, as Tony Abbott warned Australia faces the "most serious" security challenge in its history.
The Prime Minister's comments came as the Australian Federal Police revealed officers had carried out further overnight raids following yesterday's massive anti-terror operation.
However Mr Abbott refused to disclose how many terror suspects were in custody or what legal powers were being used to detain them.
US Secretary of State John Kerry has also cited the alleged plot to commit an "extravaganza of brutality" in Australia as further evidence of the Islamic State terrorists' global reach, and politicians from across politics condemned a Sydney protest organised by Islamic radicals as a gathering of "nut jobs".
Coordinated raids involving 870 police and intelligence officers across Sydney and Brisbane yesterday smashed an alleged plot to abduct and behead an Australian civilian as part of the IS terror group's global propaganda campaign.
Mr Abbott said today in Sydney: "The challenges that we face are more serious today than at any times in the past.
"It is a serious situation when all you need to do is carry out a terrorist attack is to have a knife, an iPhone and a victim."
Mr Abbott said the introduction of armed police to Parliament House was recommended in a security review urgently commissioned after the building was nominated as a potential target in discussions between terrorists in the Middle East and their supporters in Australia.
"Australian Federal Police will be in charge of not just the external security of Parliament House but the internal security as well. There will be armed Australian Federal Police present in and around our national parliament at all times," Mr Abbott said.
"I regret the fact that in these times there will be an additional level of inconvenience from time to time to the public. I regret the fact that buildings such as Parliament House will be a little more restricted in the future than they have been in the past, but the community expects government at all levels to keep them safe."
AFP Acting Commissioner Andrew Colvin confirmed further search warrants had been executed last night and "a number of people" were being detained without charge, but did not provide further details.
"There are certain things that we can't talk about for operational reasons, a number of people are still being detained, but I'm not in a position where I can confirm under what legislation or provisions they're being detained," Mr Colvin said.
Mr Colvin said two men had been charged. They include Omarjan Azari, 22, charged with conspiracy to prepare for a terrorist act, and another man who was bailed on a weapons charge.
Mr Abbott defended Mr Colvin's decision to withhold information, quoting Winston Churchill's adage that he would not "be impartial as between the fire brigade and the fire".
"The last thing any of us would want to do is to damage our freedoms in order to preserve our freedoms — that's the last thing any of us would want to do — but I don't think any reasonable observer would say that Australian police, that NSW police, that our security services are unreasonable or over the top; we are simply doing what is necessary in difficult circumstances to keep our citizens safe."
Sunni fundamentalist group Hizb ut-Tahrir Australia, which is campaigning for a global Islamic caliphate, last night staged an anti-police protest with about 400 supporters at Lakemba in Sydney.
Deputy Labor leader Tanya Plibersek told the Nine Network the Hizb ut-Tahrir protesters were "nut jobs for sure, but a very small section of the community".
Communications Minister Malcolm Turnbull said: "The vast bulk of the Muslims in Australia are good, patriotic Australians and we have to get our arms around them because they are our best allies in the fight against extremism."
Mr Abbott said it was encouraging that so few protesters turned out for the rally, saying they were "utterly unrepresentative of Australian Muslims".
"The vast majority of Australian Muslims are absolutely first-class Australians. They are valued and appreciated members of the Australian community."
Mr Kerry overnight told a US congressional hearing the alleged plot to commit "some kind of extravaganza of brutality in Australia" emphasised the need "to decimate and discredit" IS.
"There are similarities to what we've been doing with al-Qa'ida these last years, but … these folks have now taken over territory in ways that al-Qa'ida never did," he told the House Foreign Affairs Committee.
"They have access to money in ways that al-Qa'ida never did. They have access to weapons that they captured from Iraqis, and they're holding that territory and beginning to try to build a capacity for sustainability that challenges everybody."
Mr Abbott said it was now "a likely prospect" that Australian forces would be deployed to Iraq, and a statement would be made to parliament if that occurs. He would not rule out ultimately striking targets in Syria, but suggested it would be more difficult legal terrain.
Parliament House routinely houses about 5000 workers and is a major attraction for tourists and schoolchildren.
Security at Parliament House was relaxed earlier this year to exempt certain parliamentary staffers' bags from x-ray and metal detection. That decision, which prompted Liberal senator Bill Heffernan to smuggle a "pipe bomb" into the building in protest, was subsequently reversed.
Senator Brandis urged Australians to understand that Parliament House is a very public building.
"It's a unique building because it is both an accessible public building, cheek by jowl with the inner machinery of government, so that you have the Cabinet meeting … literally feet away from where there are members of the public and schoolchildren," he said.
"It is a building which is in every sense a public building because we are a free and open democracy and it's very important that our public buildings be accessible to everyone."
Greens leader Christine Milne urged the government to reinstate the outgoing Australian Federal Police contingent at Hobart airport if security is to be increased at Parliament House.
The Australian