Syria reveals more chemical weapons facilities to OPCW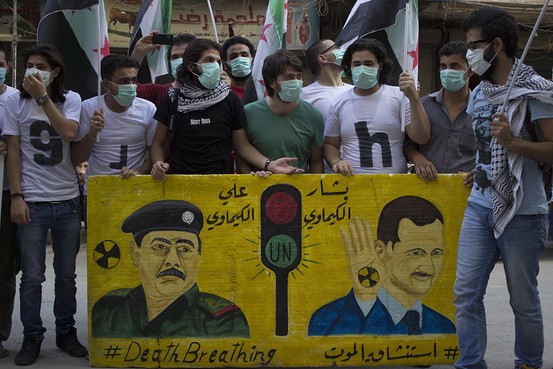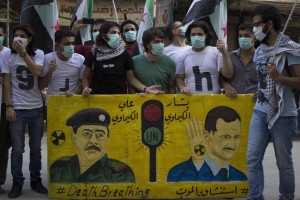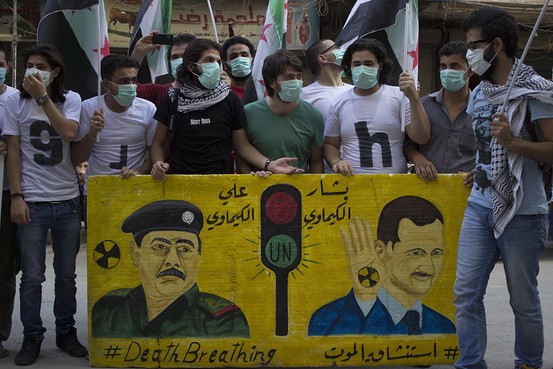 syria Syria has revealed a previously undeclared research and development facility and a laboratory to produce the poison ricin to the global chemical weapons watchdog, diplomatic sources told Reuters.
Syria has detailed three new facilities to the Organisation for the Prohibition of Chemical Weapons (OPCW) as part of an ongoing review of the state's toxic arsenal, three sources said.
The disclosures appeared to support assertions from Western governments in recent months that the regime of President Bashar al-Assad had not been fully transparent to the world body in detailing its chemical weapons program.
Damascus agreed last year to eliminate its entire chemical weapons program after a sarin attack on Aug. 21 killed hundreds of people in Ghouta, a neighborhood on the outskirts of Damascus.
Under the agreement reached with Washington and Moscow, which averted threatened U.S. military action, the Nobel Peace-prize winning OPCW is overseeing the destruction of 1,300 tonnes of chemical weapons that Syria declared to the Hague-based body.
Syria was supposed to have already destroyed all production, filling and storage facilities, but still has 12 cement hangars and underground bunkers. Those are due to be destroyed in the coming months.
The new disclosures described by diplomats came as part of an ongoing review of "discrepancies" in Syria's initial OPCW declaration, which Britain and the United States have said they feared excluded some chemicals, notably sarin.
The risk that stray chemicals fall into the hands of hardline militants has grown with the spread of Islamic State forces, who have taken large swathes of Iraq and Syria since the summer.
Syria has never declared it had any sarin or the rockets used to kill more than 1,000 people and blamed the worst chemical weapons attack in a quarter century on insurgents.
Damascus disclosed dozens of sites to the OPCW last year, but has now told a team of inspectors about three more facilities.
One is a laboratory for the highly toxic ricin, the site of which Syrian officials said was inaccessible to inspectors due to ongoing fighting between insurgents and government forces, sources said.
A second diplomatic source, also speaking on condition of anonymity, said the ricin plant had been destroyed before Syria joined the OPCW.
At a third location "small amounts of experimental work" was done on chemical weapons development, two diplomatic sources in The Hague said.
OPCW officials could not immediately be reached for comment.
As part of joining the 1997 Chemical Weapons Convention, Damascus is prohibited from developing, storing or using any chemicals as weapons and must declare any stocks of toxins to the OPCW.
"That information is having to be extracted, piece by piece, demonstrating that he (Assad) didn't properly come clean when he joined the convention," one diplomatic source said.
Nearly all of the chemical stockpile Syria declared has been destroyed on a converted U.S. cargo ship, the Cape Ray, while the toxic effluent, or discharge, is being processed in commercial waste facilities abroad.
A joint UN-OPCW team overseeing the process, headed by Sigrid Kaag, is due to return to the region this month for another round of discussions with Syrian officials.
"Syria will argue that the facilities were not revealed earlier because they were in a rush when they first had to report them," said one diplomatic source. "They had said the ricin was for medical purposes, but we don't believe that's true."
CHLORINE BARREL BOMBS
Two diplomats said a report published last week on chlorine attacks by an OPCW fact-finding team showed that Syria had violated the agreement to get rid of all of its chemical weapons and that three western governments were considering raising the matter at the UN Security Council.
An OPCW fact-finding team was assembled to look into dozens of reports of chlorine "barrel" bomb attacks this year in Syria's civil war, which has killed around 200,000 people in less than four years.
The report last week, a copy of which was obtained by Reuters, described through eyewitness testimony how dozens of attacks in villages, said to be carried out with helicopters, killed several people and injured hundreds.
"You have to keep in mind that these attacks killed hundreds and maybe thousands of people, so we need to keep the pressure on the Assad regime," the third source said. "Going to the UN would send that signal."
Reacting to the findings, Britain and the United States last week blamed Assad's regime, which they said was the only party in the civil war with helicopters.
"It is a clear violation of Security Council resolution 2118," one diplomatic source said. "We are considering raising this in New York, along with other countries."
The head of the OPCW has ordered the team to continue investigating the use of chlorine in Syria's war, which occurred as recently as Aug. 28, according to the report.
The use of chemical weapons by either side in the conflict is prohibited under the Chemical Weapons Convention and the U.N. Security Council resolution issued to support Syria's chemical weapons destruction plan.
Reuters exclusive