Bahrain FM says Hezbollah is just as dangerous as ISIL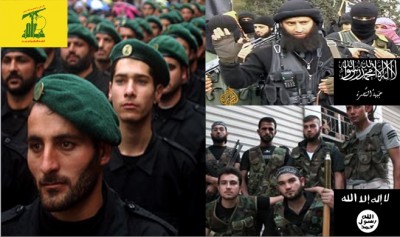 The international fight against the Islamic State for Iraq and the Levant (Isil) should include all terrorist groups in the region, including the Lebanese militant movement Hezbollah, a Bahraini minister has said.
"It is crucial to completely root out all the terrorist groups in the region that pose threats as big as those by the so-called [Isil] group, such as Hezbollah and others," Shaikh Khalid Bin Ahmad Al Khalifa, the foreign minister, said. "There is a need to confront all them with strong resolution and eradicate them and then find ways to restore security and stability in the region," the minister said in Paris where he represented Bahrain at the international talks to battle the terrorists who have seized a swath of Syria and Iraq.
Shaikh Khalid said that the battle against Isil militants who were committing heinous crimes against civilians in Syria and Iraq required addressing the three core issues of military action, funding and ideology.
He added that Bahrain was ready to host an international conference to combat the funding of terrorism in the region.
Manama has been wary of Hezbollah activities in Bahrain and in April last year it became the first Arab country to blacklist the Lebanese movement as a terrorist organisation.
Bahrain said that its backing and training of radical groups against Bahrain was the main reason given for the decision.
The government was responding to calls by the parliament to take action against the group amid complaints by lawmakers about the role of the Lebanese movement in allegedly fomenting unrest in the country.
Weeks later, Shaikh Khalid said that Hezbollah secretary-general Hassan Nasrallah was a terrorist and that saving Lebanon from him was a religious and national duty.
"The terrorist Nasrallah declares war on his nation," Shaikh Khalid posted on his Twitter account. "Stopping him and rescuing Lebanon from his clutches is a national and religious duty for all of us," the minister tweeted to his thousands of followers.
Bahrain on May 27 last year banned all political formations from contact with the group.
"All political societies are barred from any form of contact with Lebanon's Hezbollah which is considered a terrorist organisation," the justice minister said.
Gulf News